Retired sergeant donates artworks to local government
A 98-year-old retired staff sergeant demonstrated his patriotism by making miniature replicas of local and overseas landmarks complete with cards depicting the red-white-and-blue colors of the national flag, which he donated to the Miaoli County Government on the eve of Veterans Day on Tuesday.
Huang Hsing-hua (黃興華) presented his hand-made paper models of Taipei 101, the Leaning Tower of Pisa and an aircraft carrier to the county government during a celebration of the annual holiday attended by scores of veterans at a restaurant in Toufen Township (頭份).
The county is home to more than 6,000 veterans and 26,000 of their family members, with 500 of them having bravely fought in the 823 Artillery Bombardment on Kinmen in 1958, during which China fired more than 470,000 shells at the outlying island over a period of 44 days.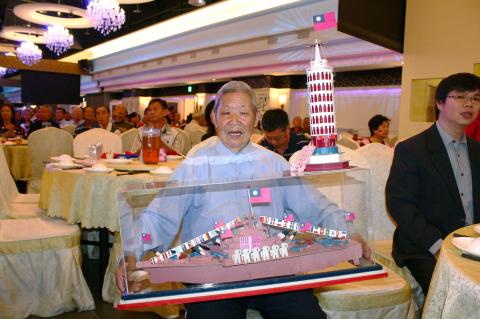 Armed forces veteran Huang Hsing-hua holds models of an aircraft carrier and the Leaning Tower of Pisa that he donated to Miaoli County's veterans' services department at an event in Toufen Township on Tuesday.
Photo: Ho Tsung-han, Taipei Times
Each of Haung's works is made of paperboards in different shapes and sizes, delicately connected to one another with paper tenons. Huang's close attention to detail has made his works more lifelike and distinctive.
Paper-made artillery, fighters and military personnel in a saluting position are featured in Huang's aircraft carrier miniature, while red plum blossoms — the national flower of Taiwan — made of paper decorate the white-colored model of the skyscraper Taipei 101.
Incorporating traditional Chinese elements into the popular tourist attraction in Italy, Huang created a paper model of the Leaning Tower of Pisa on top of a pad in the shape of a bagua (八卦, eight trigrams) — an octagonal tool commonly used for divination.
Huang's donations earned him an award of national public welfare at the event.
Having lived in Toufen Township for more than five decades, Huang, father of four children, is known for his many benevolent deeds, including donating 100 sacks of rice to areas severely damaged by Typhoon Morakot in August 2009.
Huang started creating paper replicas of landmarks after his family, including his eldest son, Huang Jih-sheng (黃日生), bought him boxes of jigsaw puzzles and self-assembly models to help him pass the time after retiring.
"What we did not expect is that my father, who has a pair of deft hands due to his experience in carpentry, opted instead to plunge into paper art with materials he personally cut from paperboards,'" Huang Jih-sheng said, adding that his father frequently gives his artistic works to his acquaintances.
"My works are an expression of myself," Huang Hsing-hua said. "They are not limited to specific materials or colors."
Comments will be moderated. Keep comments relevant to the article. Remarks containing abusive and obscene language, personal attacks of any kind or promotion will be removed and the user banned. Final decision will be at the discretion of the Taipei Times.