3D illustrator bolsters Taiwan's global image
LOCAL PRIDE: Huang Tsung-tang urged the government to introduce 3D illustration classes that can help students identify with and learn more about their hometowns
A 34-year-old illustrator from Greater Taichung has boosted the nation's global image and presence by creating 3D representations of Taiwanese landmarks complete with a Republic of China (ROC) flag on Google Earth.
Huang Tsung-tang (黃宗堂), who is better known by his pseudonym "Tang Huang (熊出沒)," has made a number of 3D models of celebrated buildings and places in the country — including Taipei 101, Chiang Kai-shek Memorial Hall and even the disputed Diaoyutai Islands (釣魚台) — in the virtual world of Google Earth.
Nearly all of Huang's works feature an ROC flag as part of his effort to bring Taiwan and the national flag — whose existence has been a taboo subject in the international arena and sometimes within the nation's own borders — to the attention of netizens worldwide.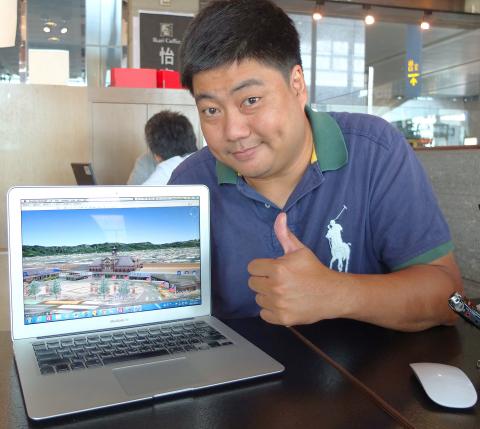 Huang Tsung-tang, an illustrator from Greater Taichung, shows his 3D model of the Greater Taichung Railway Station on Google Earth on Oct. 21.
Photo: Chen Ping-hung, Taipei Times
"I've endeavored to create more [3D] models of landmarks in this country to draw attention to Taiwan," Huang said.
"I've even created a model of Tiananmen Square in Beijing, China, and when Western netizens click on the model, they can see my name, along with my portfolio, and be directed to Taiwan," he added.
Huang said some Chinese netizens had reacted negatively to his Tiananmen illustration, angry that a Taiwanese beat the Chinese to the draw in making a model of their historical landmark.
While Apple has recently launched new mapping software featuring 3D road maps and satellite images, only a few high-rises in some major cities have been rendered in stereoscopic form in the much-publicized new application.
Google Earth, on the other hand, serves as a platform through which people can depict their own hometown and create 3D images of local architecture.
"The concept of creating a 3D representation of a township is a harmonious integration of local flavors, stories and architecture. Without a proper understanding of the local culture, the work would not pass approval [by Google Earth reviewers]," Huang said.
Huang said he was working for the marketing division of Greater Taichung-based Chungyo department store, where he was in charge of designing window displays when he came across the 3D design software Sketchup on his colleague's computer.
Huang started exploring the software, which he also tried to use to design his window displays. He was especially inspired by the 3D representation of a New York high-rise, and spent eight months creating and waiting for Google Earth to review and approve his first 3D model — the Chungyo department store.
Encouraged by the positive response, Huang stepped up his efforts to depict more buildings in Taiwan with 3D architectural visualizations.
Last year, Huang led six other friends to compete in the 2012 Google Model Your Town contest with a 3D model of Jhongsing New Village (中興新村) in Nantou County.
Although the team failed to bag an award, Huang said: "At least I have recorded the most well-preserved township in Taiwan, which was my main purpose in [entering the competition]."
Google Earth has introduced a timeline display feature, which allows people to view how places have changed over time through updated satellite images.
Citing as an example his friend's hometown in Lioucuo Borough (劉厝) in Yunlin County's Beigang Township (北港), Huang said that while the region — which is home to many examples of historical southern Fujian-style architecture — cannot be seen on Google Map's Street View, it is now accessible to the world thanks to the stereoscopic displays on Google Earth.
"I am a man with limited power and can only do so much giving speeches and holding educational camps. [I cannot] model every township across the country by myself," Huang said.
He urged the government to put more effort into helping students foster a stronger sense of identification with their hometowns.
"The government should incorporate [3D architectural illustrations] into geography classes in junior-high schools to give students an opportunity to learn more about their hometowns, to model their own schools or the communities in which they live," Huang said.
Creating 3D architectural visualizations is easier than expected, Huang said, adding that it would take fifth and sixth-grade elementary-school students only three hours of training to learn how to create one of their own homes.
Comments will be moderated. Keep comments relevant to the article. Remarks containing abusive and obscene language, personal attacks of any kind or promotion will be removed and the user banned. Final decision will be at the discretion of the Taipei Times.