KMT legislators question premier about Aboriginal employment opportunities
Premier Sean Chen yesterday said that the possibility of an influx of foreign workers crowding out Aborigines was an issue that "demanded attention."
Fielding questions from Chinese Nationalist Party (KMT) Legislator Jeng Tian-tsair (鄭天財), an Amis Aborigine, during a question-and-answer session in the legislature, Chen said the Cabinet would discuss how it can address the problem properly.
Jeng raised concern over the Cabinet's plan to relax restrictions on the recruitment of foreign workers to attract new investors and encourage China-based Taiwanese businesspeople to relocate their businesses to the country.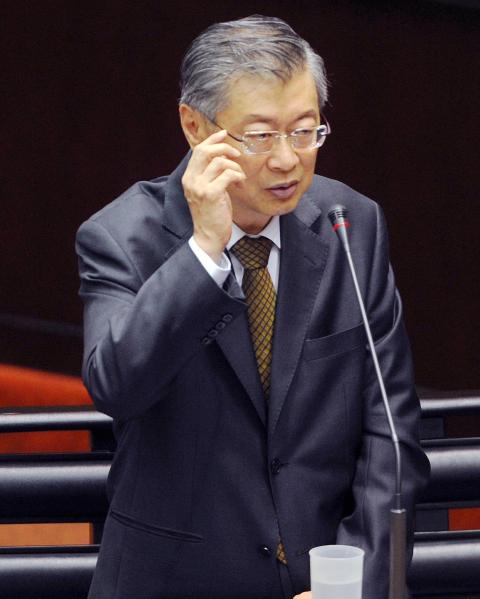 Premier Sean Chen speaks during a question-and-answer session on the economy at the Legislative Yuan in Taipei yesterday.
Photo: Wang Yi-sung, Taipei Times
The government has estimated that the measures, which will take effect at the end of this year, for new investors who apply for investments in the next two years, would attract NT$200 billion (US$6.83billion) in investments, bringing in 80,000 foreign workers and creating 120,000 job opportunities for Taiwanese.
Jeng said that the policy would negatively affect Aboriginal employment.
"Between 2000 and the end of last year, there was an increase of 7,000 in the number of migrant workers. In the first eight months of the year, Taiwan recruited 12,000 extra workers from foreign countries. Now we will bring in an additional 80,000 foreign workers?" Jeng asked.
The incentives for investors would hit hard and fast on Aborigines, whose unemployment rate is already high, because about 30 percent of the Aborigines who are employed work either in the manufacturing or construction sectors, Jeng said.
Chen agreed with Jeng's suggestion that companies may be required to provide employment opportunities for Aborigines to qualify for the investment incentives.
Separately, Independent Legislator May Chin (高金素梅) of the Atayal, KMT Legislator Kung Wen-chi (孔文吉) of the Sediq, and KMT Legislator Chien Tung-ming (簡東明) of the Paiwan urged Chen to speed up the drafting of an autonomy bill for Aborigines.
Chen said he has gone over the drafted bill initiated by the Council of Indigenous Peoples article by article, while talks between the council and local governments have been ongoing to review the feasibility of tribal self-governance projects as stipulated in the bill to make sure that the ideals of Aboriginal self-government can be realized.
"No one [in the Cabinet] is opposed to the idea of Aboriginal self-governance. We have been looking at how to implement the ideal idea," Chen said.
Comments will be moderated. Keep comments relevant to the article. Remarks containing abusive and obscene language, personal attacks of any kind or promotion will be removed and the user banned. Final decision will be at the discretion of the Taipei Times.