Talks with Japan to focus on fishing, agency says
Fisheries Agency Deputy Director Chiang Ying-chih (江英智) yesterday reiterated that long-stalled fisheries talks between Japan and Taiwan, which are likely to be resumed next month, are to focus mainly on Taiwanese fishing rights in the disputed waters near the Diaoyutai Islands (釣魚台), and not on sovereignty.
"The new round of Taiwan-Japan talks would center on the rights of Taiwanese fishing boats to operate near the archipelago and would not touch upon sovereignty issues," Chiang said on the sidelines of a press conference in Taipei to promote certified agricultural standards (CAS) for aquatic products.
Both countries are engaging in preparatory communications, but the topics to be covered in the talks have yet to be finalized, Chiang added.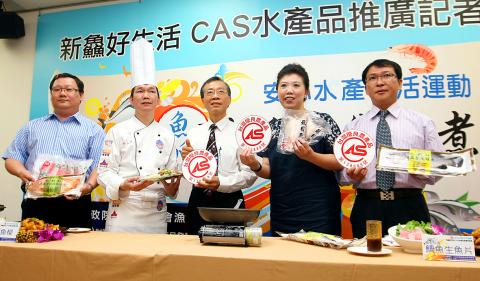 Fisheries Agency Deputy Director Chiang Ying-chih, center, gestures at a press conference in Taipei yesterday.
Photo: CNA
According to Japanese media reports, the new round of Taiwan-Japan fisheries talks, which would be the 17th round of such talks, could take place as early as next month.
Taiwan is said to have rejected a proposal by Japan to resume the talks after the latter nationalized three of the islands in the chain on Sept. 11, a move that led to widespread protests against Japan and a water-cannon altercation between Taiwanese and Japanese coast guard vessels during a protest voyage by Taiwanese fishermen in waters near the disputed islands.
Japan has been dispatching patrol vessels to expel Taiwanese fishing boats operating within its claimed exclusive economic zone (EEZ), which extends 200 nautical miles (370.4km) from its baseline, including water off the Diaoyutai Islands, which are known as the Senkaku Islands in Japan.
Taiwan and Japan's 16 rounds of fishery talks have yielded little results thus far.
When pressed by reporters on how fishing rights could be addressed if the matter of the overlapping EEZs of Taiwan and Japan is not, Chiang said the EEZ issue was related to sovereignty dispute because an EEZ stretches from the seaward edge of a country's claimed territory to a distance of 200 nautical miles.
"The talks aim only to deliberate on fishing operations [near the Diaoyutais,] while shelving any disputed issues," Chiang said.
As for the overlapping EEZ matter, Chiang said the government was inclined to adopt an approach of joint management to allow simple fishing operations in the area, but added that further discussions were still required.
Comments will be moderated. Keep comments relevant to the article. Remarks containing abusive and obscene language, personal attacks of any kind or promotion will be removed and the user banned. Final decision will be at the discretion of the Taipei Times.