'Improvements' befuddle travelers at Taipei Station
LOST IN TRANSPORTATION: The NT$23m project to improve signs resulted in no improvement for pedestrians, and 50 more minutes of lost time for those in wheelchairs
A three-rail terminal that combines the nation's railway, high-speed rail and access to the Taipei Mass Rapid Transit system, Taipei Railway Station seems unable to shake off notoriety for its bewildering direction signs that often hinder travelers in a rush, despite an ongoing improvement project that cost the Taiwan Railway Administration (TRA) more than NT$23 million (US$788,000).
Tang Sheng-han (唐聖瀚), an assistant professor at National Taiwan Normal University's (NTNU) Graduate Institute of Design who carried out on-site tests of the station's signs for two years, said the project only appears to have worsened the situation.
"According to actual time calculation, a first-timer who has just arrived at the station would have to spend at least 14 minutes to find their way," Tang said. "Yet, things are even worse for wheelchair-bound travelers, who, according to last year's test results, waste an average of 28 minutes trying to find the right direction. This year, the time lengthened to an absurd one hour and 17 minutes."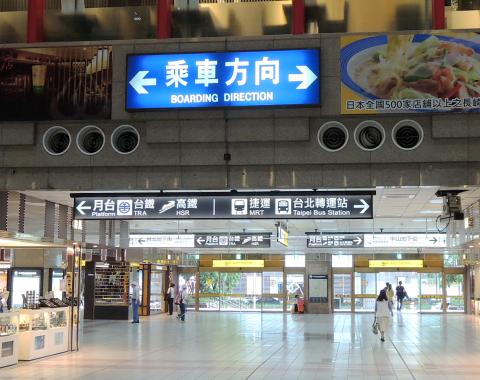 Direction signs are pictured in Taipei Main Station on Monday, as the station works to improve its signage.
Photo: Tsai Wei-chi, Taipei Times
Tang said the disorientation problem prevalent at the country's busiest station could incur substantial "time cost."
Citing last year's statistics released by the Directorate-General of Budget, Accounting and Statistics, which recorded the average monthly wage of Taiwanese employees at NT$45,642 (NT$4.75 per minute), Tang said that if the 500,000 travelers commuting daily through the station all spent seven minutes finding their way, their wasted time could translate to a cost of NT$16.62 million a day.
"That number could reach as much as NT$6.06 billion over the course of one year," Tang said.
At an interactive course at NTNU, Tang had instructed a number of postgraduate students last year and this year to carry out an experiment at the station — purchasing tickets, buying bread on the underground shopping street, then getting to the final destination of Breeze Taipei Station, in a food court on the second floor.
Students were divided into two different groups, one traveling by wheelchair and the other on foot.
While the first group of students, traveling by wheelchair, accomplished their mission within half an hour last year, Tang said students who embarked on the same quest this April following the commencement of the improvement project spent an additional 50 minutes going through the routine.
"Some participants became irritated after having failed to find the right direction," Tang said, adding that more time would be needed if students were to make a transfer.
Attributing the worsening results to the inaccurate direction signs to an elevator to the second floor, Tang said the signs were relocated from an already inconspicuous spot to a far more obscure place outdoors, with no relevant instructions positioned within the station.
"Our test results highlighted the dire situation faced by many passengers with disabilities at the labyrinthine station," Tang added.
Meanwhile, the improvement project appears to neither help nor impede passengers traveling on foot, because the time needed for students to complete the mission on foot remained unchanged this year from last year, at about 14 minutes.
"The outcomes indicated that while the ongoing project has brought about some adjustments, they are not necessarily beneficial to travelers. Some signs are not only misleading, but also indicate a lack of judgement," Tang said.
Station master Ku Shih-yen (古時彥) said that because the possibility of a three-rail terminal was not in the picture when the station was built, there is plenty of room for improvement in its design.
"We have entrusted a professional company to rearrange and redesign the direction signs, which is scheduled to be complete by next year's Lunar New Year. By then, we believe the station will be transformed into a terminal with a friendly environment," Ku said, pledging to prioritize improvement to the directional signs to the elevator.
In response, Tang said that while the modified signs were more appealing in appearance, they were lacking in practicality and user-friendliness.
"The devil is in the details. If the [TRA] continues failing to design the signs from a user perspective, and remains fixated on a mindset of egotism and convenience, no amount of money and no professional firm can ever make a change for the better," Tang said.
Comments will be moderated. Keep comments relevant to the article. Remarks containing abusive and obscene language, personal attacks of any kind or promotion will be removed and the user banned. Final decision will be at the discretion of the Taipei Times.