Stargazers get chilly wedding pics
A love of stars and astronomy brought a couple planning to marry in April next year onto Hehuanshan (合歡山) for wedding photographs in the hope of incorporating that sentiment into the most important series of photos in their lives.
Bride-to-be Lee Ling-yu (李翎羽) had always loved the stars and was the head of the astronomy club at high school before joining the Greater Tainan Astronomy Association a decade ago. Lee has been everywhere to take photos of the stars that she loves so much. Her groom-to-be, Lee Po-yuan (李博元), had been influenced by his fiance and had also joined the association last year.
According to Lee Ling-yu, she had always dreamed that "one day if I could shoot my wedding photos under star-filled skies, it would be very beautiful."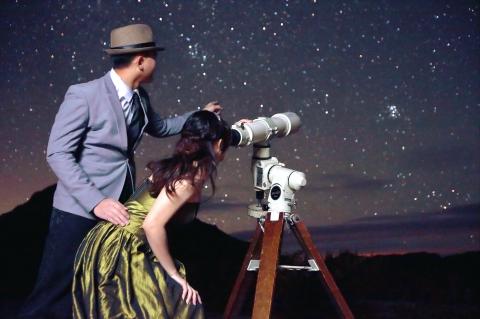 Groom-to-be, Lee Po-yuan, left, looks on at the stars from the top of Hehuanshan mountain with his bride-to-be Lee Ling-yu, right, early on Wednesday morning as the pair had their wedding photographs taken.
Photo courtesy of Lee Ling-yu and Lee Po-yuan
To make that dream come true, the couple hand-picked Cingjing Farm (清境農場) in Nantou County to shoot their daylight wedding photos as it was more convenient for the night-time shoot on Hehuanshan, an hour to the north of the farm.
Accompanied by Greater Tainan Astronomy Association president Chou Yin-wang (周銀王) and with two members of the "Astronomy Family" group — Yan Hung-hsuan (顏鴻選) and Chen Kuan-chung (陳寬充) — acting as camera crew, the couple shot a total of seven photo sets taken over a period of four hours, all set against stars shining brightly in the night sky.
The couple said that although they had brought along two changes of clothing for the session, the temperature was about about 6oC in the mountain area at night, and it was too cold to change clothes.
The couple said they ended up shooting all seven sets in one change of clothing, adding that although they were nearly frozen stiff, the resulting pictures were worth it.
The first reaction of everybody who saw the photos was to say that they were beautiful, but the second reaction was to wonder whether they were authentic or had been edited, Chou said.
"They are all real and while it isn't difficult for an astronomy lover to reproduce the same photos, it is quite an innovation to have them used for wedding photos," Chou added.
Yan, a student at the National Taiwan Normal University's Department of Earth Sciences' Astronomy Division, said it had been his first time shooting a wedding photo session.
The telescopes and professional-grade cameras had all been borrowed and aside from needing equipment, the photo shoot was largely dependent on the weather that night, Yan said.
The group had been sitting on the mountain from about 7pm waiting for the cloud cover to disperse so they could get the Milky Way — visible in the summer — in the background before taking photos of the winter night sky.
It was a very long and arduous process, Yan said, adding they had not come down from the mountain until 11pm.
Meanwhile, although the group was mainly comprised of people who love astronomy, Chou said it would not be difficult for others to do the same thing.
However, Chou said it was important that they understand their star constellation charts and astronomy in general to be able to make a story out of the photos.
Comments will be moderated. Keep comments relevant to the article. Remarks containing abusive and obscene language, personal attacks of any kind or promotion will be removed and the user banned. Final decision will be at the discretion of the Taipei Times.