Taroko trail is re-opened to public
Following a three-year closure, the 2.1km-long Baiyang Trail in Taroko National Park in Hualien County was re-opened to visitors this month after being out of bounds because of the danger of falling rocks.
Despite a lack of advertisement surrounding its reopening, news of the change has spread by word of mouth and the trail's famous Shuiliandong (water curtain, 水濂洞) has since attracted flocks of tourists tempted to play under the waterfall that sits at the end of the trail.
"The Taroko National Park Administration Center has reopened the trail, which had been partly off limits due to falling rocks alongside the trail, the collapse of a bridge linking part of the route and a [October 2009] rockslide that had blocked the entrance," center deputy director Chang Teng-wen (張登文) said.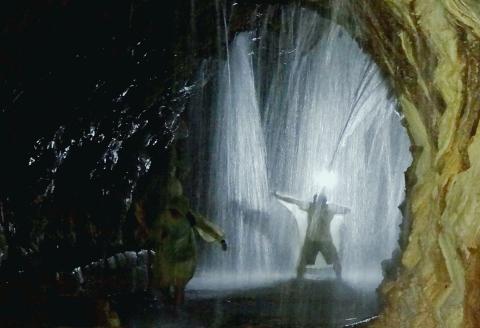 Tourists play in the Shuiliandong waterfall in Taroko National Park in Hualien County on Saturday, following the re-opening of the Baiyang Trail.
Photo: Yu Tai-lang, Taipei Times
Seven tunnels are located along the trail, starting with the entrance tunnel on the Central Cross-Island Highway through to the last tunnel which sits ahead of the water curtain.
Due to frequent afternoon showers in mountainous areas, news of the reopening had not been made public, Chang said, advising tourists not to walk near the mountain cliffs and to avoid traveling alone or staying near rockfall-prone sections of the path.
According to Chang, the trail was originally built by Taipower in 1984 for a hydroelectric power project, a plan which has since been shelved by the Council for Economic Planning and Development due to public concerns over the possible environmental damages it might cause. In 1986 it was converted into a hiking trail, Chang said.
The Shuiliandong, which Chang said is the most popular area along the path, came into being after the power company accidentally hit an underground water vein during tunnel excavation work, which resulted in the water continuously flowing from the top of the tunnel, he said.
Hotel operators have also benefited from the path's reopening, with an increasing number of tourists seeking to walk the trail.
Silk Place Taroko deputy director Chao Chia-chi (趙嘉綺) said the hotel, which is located less than 2km away from the popular trail, has developed a half-day tour for hikers along the mountain roads.
"The trail is an easy walk along a flat road ideal for the entire family. In addition to a wealth of eco-species, tourists can also witness a substantial number of bats resting in the tunnels and cool off in the summer heat in the Shuiliandong natural spa," Chao said.
Comments will be moderated. Keep comments relevant to the article. Remarks containing abusive and obscene language, personal attacks of any kind or promotion will be removed and the user banned. Final decision will be at the discretion of the Taipei Times.