Minister of Culture discusses lasting importance of independent bookstores
Owners of independent bookstores yesterday discussed their current predicament and the cultural importance of their businesses at a forum held by the Ministry of Culture in Taipei.
Chen Long-hao (陳隆昊), who has run the Tonshan Bookstore for the past 30 years, said business had steadily declined over the past 15 years.
"First, it was the Internet, then the big chain stores arrived. The final straw was digital books," he said.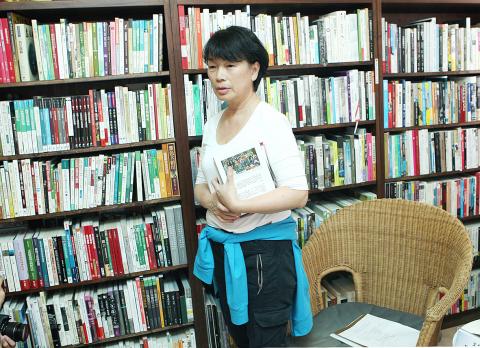 Minister of Culture Lung Ying-tai discusses the development of Taiwan's independent bookstores at a culture forum yesterday. The event was held by the Ministry of Culture in Yonghe District of New Taipei City.
Photo: CNA
Liao Ying-liang (廖英良), owner of Tunghai Books in Greater -Taichung, said that in central and southern Taiwan, independent bookstores have to sell books to libraries or run cafes or restaurants to survive.
Su Chih-hung (蘇至弘), owner of NTHU Books, echoed that sentiment, saying that about 120 towns and villages in Taiwan do not have bookstores.
Meanwhile, Chen Pei-yu (陳培瑜) of the Kaifeng Kama Children's Bookstore, emphasized the bookstores' role as not just a place where people read and buy books, but as a platform for individuals to meet through readings, book clubs, exhibitions, film screenings and other art-related activities.
Minister of Culture Lung Ying-tai (龍應台) agreed that the government has not paid enough attention to independent bookstores. She said that those who run independent bookstores are not businesspeople, but should rather be viewed as -"curators of knowledge," adding that their undertakings are of great cultural significance.
Lung said out that according to the Cultural and Creative Industries Development Act (文化創意產業發展法), businesses in that sector are entitled to a variety of funding and loans aimed at fostering, assisting and promoting their development.
The minister also broached the subject of a unified approach for pricing books, because large chain stores and online bookstores can get far greater discounts from publishing houses than independent establishments.
Architect, writer and academic Roan Ching-yueh (阮慶岳) said that rather than seeing independent bookstores as needing help, they should be considered as representatives of community spirit that have been overlooked in the wake of economic globalization.
Others shared similar views.
"If the market [for independent bookstores] gets bigger and we make more money, then we will no longer be 'independent,'" said Liao of Tunghai Books. "We are not here to ask for money. I think the question is whether or not independent bookstores are important to society."
In response to questions regarding government funding, Lung said that people should not think of the Ministry of Culture as having "lots of money to spend."
However, "the ministry thinks highly of independent bookstores and hopes to help them remain culturally relevant," she added.
The meeting is one of nine forums organized by the ministry to seek opinions on the nation's cultural development and policy proposals from professionals in various fields. Over the next month, topics that will be discussed include film subsidies, public media and a review of the Cultural Heritage Conservation Act (文化資產保存法).
Comments will be moderated. Keep comments relevant to the article. Remarks containing abusive and obscene language, personal attacks of any kind or promotion will be removed and the user banned. Final decision will be at the discretion of the Taipei Times.