Ma defends the nation's participation in WHA
MALICIOUS MEMO: Health minister Chiu Wen-ta said he protested to the WHA about the WHO referring to Taiwan as a 'province of China' in a memo last year
President Ma Ying-jeou (馬英九) yesterday defended Taiwan's participation in the annual World Health Assembly (WHA), and promised to protect the rights of medical workers and improve their working conditions.
Despite continuous difficulties participating in international organizations, Taiwan managed to return to the WHA in 2009 under the title "Chinese Taipei" and was able to participate in the assembly, rather than being limited to just technical meetings, he said, while blaming the former Democratic Progressive Party administration for failing to make any major breakthrough in participation in the WHA.
"In addition to our own efforts, the US, EU and Japan, as well as our allies also supported the nation's participation in the WHA. The improvement of cross-strait relations also played a key role, although there is room for improvement in our participation in the WHA, especially the title," Ma said at the Chinese Nationalist Party's (KMT) headquarters.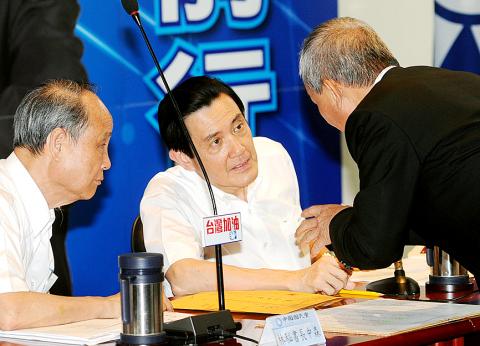 President Ma Ying-jeou, center, talks to Chinese Nationalist Party (KMT) Legislator Hsu Yao-chang, right, at a KMT Central Standing Committee meeting at the party's headquarters in Taipei yesterday.
Photo: Fang Pin-chao, Taipei Times
Ma discussed Taiwan's participation in the WHA following Department of Health Minister Chiu Wen-ta's (邱文達) report on this year's participation.
Following previous challenges from opposition parties about the WHO addressing Taiwan as "a province of China" in an internal memo last year, Ma said the government has asked the WHO not to use the term in internal memos, while urging the people to value the nation's participation in the international health body and to work together to strive for more achievements in the health field.
The revelation of the memo last year sparked challenges from the DPP concerning erosion of the nation's sovereignty under the Ma administration.
Chiu had issued a letter to WHO Director-General Margaret Chan (陳馮富珍) to protest the improper procedures and erroneous terminology used in the leaked memo.
The health minister said he protested against the erroneous terminology during his attendance at the WHA last month, and urged Chan to expand Taiwan's fair and meaningful participation in the WHO.
Comments will be moderated. Keep comments relevant to the article. Remarks containing abusive and obscene language, personal attacks of any kind or promotion will be removed and the user banned. Final decision will be at the discretion of the Taipei Times.