MA'S RE-INAUGURATION: US congressional delegation arrives for Ma inauguration
STORM WARNING: Ros-Lehtinen said she and the US delegation would talk about China, advancing bilateral trade and how to preserve democracy
The US is a good friend of Taiwan that "shields you from the storm," US Representative Ileana Ros-Lehtinen, chairwoman of the House of Representatives Committee on Foreign Affairs, said yesterday after arriving to attend President Ma Ying-jeou's (馬英九) inauguration.
The delegation arrived on a chartered Boeing 737 US Air Force executive jetliner and landed at Taipei International Airport (Songshan airport) at 3:25pm.
In a brief statement upon her arrival, Ros-Lehtinen highlighted the importance the US places on Taiwan's security.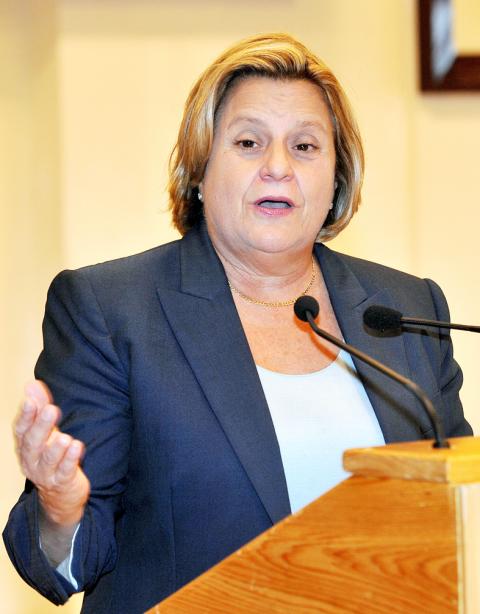 US Representative and Chairwoman of the House Foreign Affairs Committee Ileana Ros-Lehtinen addresses the press on her arrival at Taipei Songshan International Airport yesterday.
Photo: Chien Jung-fong, Taipei Times
"An old proverb states that a good friend shields you from the storm. We, from the United States Congress, are here to assure you that America is such a friend to Taiwan," she said.
Ros-Lehtinen said the delegation would discuss "the rise of China," exchange ideas on "how to advance bilateral trade" and "how to best preserve Taiwan as what it is — a beacon of democracy."
The Republican US representative from Florida, who is originally from Havana, Cuba, said being in Taiwan "makes me feel right at home" because her homeland is another beautiful, semi-tropical island like Taiwan.
"I would like to formally congratulate President Ma on his inauguration for a second term and as we know, for decades the US and Taiwan have forged strong partnership. We cooperate closely in matters of the economy, on foreign policy, but most especially, on security matters," she said.
The delegation was composed of bipartisan members of congress, including Dan Burton, Thad McCotter, Jim Gerlach, Brad Miller and Jean Schmidt. They also met Premier Sean Chen .
During their three-day stay, they will also meet Ma, Vice President Wu Den-yih (吳敦義) and Legislative Speaker Wang Jin-pyng (王金平), and visit the Ministry of Economic Affairs, the Ministry of National Defense, the Mainland Affairs Council and the Ministry of Foreign Affairs.
Former Democratic Progressive Party legislator Chai Trong-rong (蔡同榮) will hold a banquet for the delegation tonight.
Former White House chief of staff William Daley, the head of the US delegation to the inauguration was asked for a comment on Ma's inaugural speech at a lunch banquet hosted by Minster of Foreign Affairs Timothy Yang (楊進添).
"It was a very nice speech and we are having a great day," Daley said.
Comments will be moderated. Keep comments relevant to the article. Remarks containing abusive and obscene language, personal attacks of any kind or promotion will be removed and the user banned. Final decision will be at the discretion of the Taipei Times.