New airport food court to open in September
A new food court at Terminal 1 of Taiwan Taoyuan International Airport will open on Sept. 30, the state-run Taoyuan International Airport Corp (TIAC) said yesterday.
Renovations at Terminal 1, which began in 2009, are scheduled to be completed this year. The new food court is located at the terminal's level-one basement (B1).
TIAC senior vice president Wen Yung-sung (溫永松) said the company had outsourced operations of the food court to Hsin Tung Yang Corp, which won the contract earlier this month.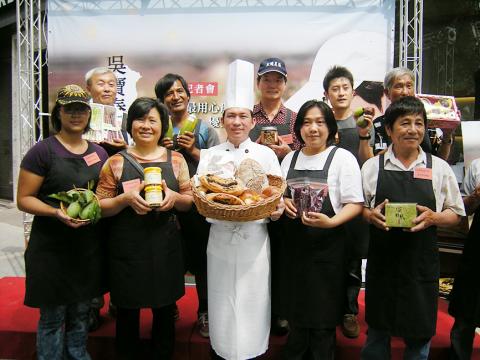 Taiwanese master baker Wu Pao-chun, center, stands outside his bakery in Greater Kaohsiung on Friday last week at a book signing event for his latest publication.
Photo: Huang Hsu-lei, Taipei Times
Wen said the contractor planned to attract investment from international food chains, as well as Taiwanese restaurants.
Aside from McDonald's and Tokyo Prince Ramen, Hairei Meatball of Hsinchu City and Jimmy's Kitchen in Taipei will also have a presence at the terminal's food court.
Wen said Taiwanese baker Wu Pao-chun (吳寶春), who won the Bakery Master title at the 2010 Bakery World Cup in Paris, would also have an outlet at the airport.
The quality of food at the nation's main airport came under scrutiny following a complaint by Taiwanese gourmet Han Liang-lu (韓良露), who said that the food at the airport was expensive and tasted awful.
Wen said the company hoped the food quality at the airport could soon match that at Hong Kong International Airport.
According to TIAC, the renovation project has expanded the area of Terminal 1 by approximately 13,000m2.
Starting on Sunday, the company will gradually open different areas to the public.
Comments will be moderated. Keep comments relevant to the article. Remarks containing abusive and obscene language, personal attacks of any kind or promotion will be removed and the user banned. Final decision will be at the discretion of the Taipei Times.