Rules on Chinese students to be relaxed
President Ma Ying-jeou (馬英九) yesterday said he expected regulations on Chinese studying in Taiwan to be relaxed soon in order to encourage more students to come to the country, praising the government's policy on Chinese students for promoting cross-strait development.
"We need to reduce the distance between the two sides of the Taiwan Strait with more exchanges. The policy has led to many positive interactions between students from the Taiwan and China, allowing them to better understand each other. It would help with peaceful cross-strait developments if young people from both sides make friends and learn about each other," Ma said when meeting with Taiwanese and Chinese students at a forum in Greater Tainan.
Allowing Chinese students to enroll in academic programs in Taiwan is part of the government's cross-strait policy, which aims to promote cross-strait exchanges in education.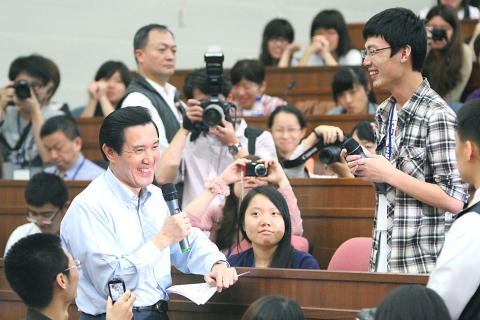 President Ma Ying-jeou talks to Chinese students at a forum on cross-strait student exchanges at Southern Taiwan University in Greater Tainan yesterday.
Photo: CNA
The Ministry of Education launched a program last year that allows 2,000 Chinese students to enroll at more than 100 colleges and universities each year, while imposing restrictions to protect the rights of local students.
The restrictions limit enrollment to Chinese students who come from "schools of high academic standing," places a cap on how many Chinese are allowed to study nationwide and does not recognize medical diplomas from China.
Chinese students are not eligible to receive preferential grading on entrance exams or scholarships and they are not permitted to work part-time while in Taiwan, take any licensing examinations or remain in the country after graduating.
Under the restrictions, only 928 Chinese students enrolled in Taiwanese schools last year.
Ma said the ministry is reviewing the policy to examine the reasons for the low enrollment level, and said the government was looking at relaxing the restrictions to encourage more Chinese to study in Taiwan.
"The policy is part of our goal to strengthen cross-strait exchanges. Of course we want to attract great students and we hope that by making the necessary adjustments the policy will attract more students," he said.
When asked by Chinese students to comment on the issue of human rights and democracy in China, Ma said freedom, democracy and human rights are core values celebrated by Taiwanese and he urged China to work harder to "move closer" to Taiwan in those areas.
Comments will be moderated. Keep comments relevant to the article. Remarks containing abusive and obscene language, personal attacks of any kind or promotion will be removed and the user banned. Final decision will be at the discretion of the Taipei Times.