US beef talks break down again
NO PROPOSAL: The opposition is demanding the Cabinet present its plan to relax a ban on ractopamine residues in beef imports, adding that the KMT could implement it
A plenary session of the Legislative Yuan was suspended yesterday after cross-party negotiations over an amendment to the Act Governing Food Sanitation (食品衛生管理法) broke down.
Legislative Speaker Wang Jin-pyng (王金平) announced at about 10am that the session would be rescheduled for a later date after an 80-minute negotiation session over the amendment, which would be crucial to relaxing a ban on US beef imports containing residues of the leanness-enhancing animal-feed additive ractopamine, fell apart.
While the government is leaning toward easing the ban on the feed additive, which would require a legislative amendment, the Executive Yuan has yet to submit its proposal to the legislature.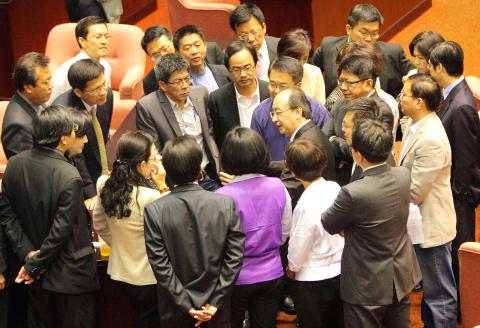 Democratic Progressive Party lawmakers hold a caucus on the floor of the legislature in Taipei yesterday as they and their Chinese Nationalist Party (KMT) counterparts failed to reach an agreement on legal amendments regarding meat additives.
Photo: CNA
The Democratic Progressive Party (DPP), the People First Party and the Taiwan Solidarity Union (TSU), as well as several lawmakers from the Chinese Nationalist Party (KMT) who oppose relaxing the ban have submitted more than a dozen draft proposals that favor a zero-tolerance approach to the drug.
"The DPP insists on the Executive Yuan's presentation of its proposal and the invalidation of KMT Legislator Tsai Chin-lung's (蔡錦隆) unilateral decision to refer all proposals to cross-party negotiations," DPP Legislator Pan Men-an (潘孟安) told a press conference after the session was halted.
The DPP caucus said that since the Legislative Yuan's regulations place a one-month time limit on party negotiations before proposals are sent to the plenary session for a vote, the KMT would be able to take advantage of its majority and pass the government-sanctioned amendment after the one-month negotiation period.
In protest at the Cabinet's refusal to present a proposal, opposition lawmakers boycotted a preliminary review on Thursday during a Sanitation, Environment and Social Welfare Committee meeting, which was chaired by Tsai, and occupied the podium for hours before Tsai announced through a wireless microphone that all the proposed amendments had been moved out of the legislature.
The KMT caucus had demanded in the inter-party negotiations that all parties be barred from occupying the podium during committee meetings. The DPP rejected the suggestion.
The talks broke down because the KMT caucus' position was more rigid than in previous negotiations, TSU caucus whip Hsu Chung-hsin (許忠信) said.
Unable to answer questions during the plenary session, Premier Sean Chen (陳冲) and other Cabinet officials left the Legislative Yuan after the session was called off.
The opposition parties also boycotted Friday's plenary session after the clash on Thursday.
Comments will be moderated. Keep comments relevant to the article. Remarks containing abusive and obscene language, personal attacks of any kind or promotion will be removed and the user banned. Final decision will be at the discretion of the Taipei Times.