Rally held to protest beef policy
IN A STEW: The protesters called for a complete ban on lean-meat additives and for public participation in the policymaking process dealing with beef imports
Hundreds of people dressed in black protested yesterday in front of Liberty Square at the Chiang Kai-shek Memorial Hall in Taipei against a proposed policy to lift the ban on meat that contains lean-meat additives.
Holding electric candles, the crowd of about 600 participants set out on a silent march toward Ketagalan Boulevard at sunset, which organizers said symbolized the coming of a dark food-safety era in Taiwan.
The rally was organized by the National Food Safety Alliance and included people from more than 100 civic groups who were calling for a complete ban on lean-meat additives, the disclosure of food safety policies and public participation in the policymaking process.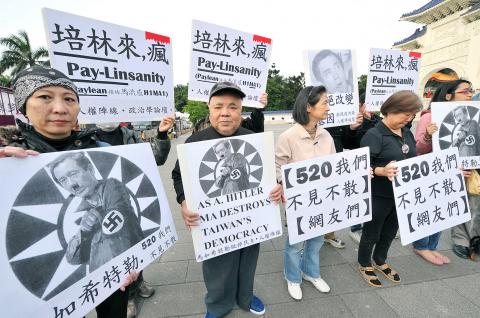 A group of protesters gathers on the sidewalk outside Liberty Square in Taipei yesterday holding up signs demanding food safety.
Photo: CNA
"How can we let our children grow up eating food with so many unknown additives?" said Chen Man-li (陳曼麗), chairwoman of the Homemakers United Foundation and convener of the rally. "Many of us came here today because we are not satisfied with how food safety is managed."
"It is wrong for the government to treat people like fools and use harsh means to execute its policies," Chen said.
"Stop fooling us with the 16 characteristics of food safety management. Recently, people have become fearful of food," National Association for the Promotion of Community University executive director Kao Ju-ping (高茹萍) said. "The government has not given us a positive response that we can rely on."
Kao said the quality of food products in Taiwan was still mainly determined by the producers, while consumer awareness in the EU is at the forefront of discussion.
"I hope Taiwanese consumers will have more access to information about food safety," she said.
Democratic Progressive Party Legislator Tien Chiu-chin (田秋堇) said if the US can sell meat that does not contain lean-meat additives to EU countries, then it can certainly sell the same meat to Taiwan.
"When Food and Drug Administration Director-General Kang Jaw-jou (康照洲) answered my question last week on how much would it cost for lot-by-lot inspections of US beef imports, he estimated that it would cost about NT$100 million [US$3.4 million] per year," Tien said, adding that the money would be better spent on doing inspections at slaughter houses in the US.
"As a mother of two kids, I already felt that it was difficult to prepare safe food for my family ... I usually buy ingredients from sources I trust, and avoid traditional markets and hypermarkets, but if the ban on meat with lean-meat additives is lifted, I won't be able to tell which product has the additives and which doesn't," a woman surnamed Chang (張) from Greater Taichung said.
Pointing to her two elementary and pre-school aged children, who also joined the rally and were holding paper shields to symbolize the blocking of unsafe food, Chang said both kids were at an important stage of their growth and should not be exposed to possible danger from unsafe food.
"The government should be responsible for food safety management from its point of origin, because sometimes the dealers also become victims as they don't always have the expertise to examine the products for additives," she said.
She added that labeling that identifies the source of the product is not enough to prove its safety, but felt that implementing a system that could trace food products would be more effective.
Chang Hung-lin (張宏林), executive director of Citizen's Congress Watch and a co-convener of the rally, said the controversial modification of the Act Governing Food Sanitation (食品衛生管理法) should be disclosed and discussed, and the government should explain its decision to legislators and those who still hold doubts.
The Cabinet could discuss and pass its own package of draft amendments to ease the ban on US beef imports this week, which would require further approval from the legislature.
Comments will be moderated. Keep comments relevant to the article. Remarks containing abusive and obscene language, personal attacks of any kind or promotion will be removed and the user banned. Final decision will be at the discretion of the Taipei Times.