Defense ministry lambasted over submarine plans
Lawmakers across party lines criticized the Ministry of National Defense yesterday for what they called its passive attitude toward Taiwan's development of its own submarines and urged it to act more aggressively in efforts to obtain the craft.
Several legislators of the opposition Democratic Progressive Party (DPP) and the Chinese Nationalist Party (KMT) accused the ministry of not following up strongly enough on a statement by local shipbuilder CSBC Corp that it has the ability to manufacture submarines.
They also accused the ministry of taking a lackadaisical approach to acquiring submarines from abroad.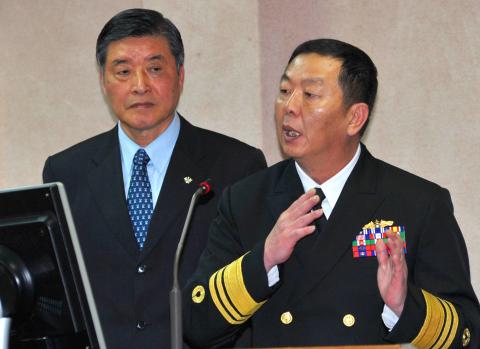 Minister of National Defense Kao Hua-chu, left, looks on as chief of staff of Navy Command Headquarters Huang Shu-kuang speaks during a question-and-answer session yesterday on Taiwan's submarine-building capabilities.
Photo: Wang Yi-sung, Taipei Times
Speaking at a legislative interpellation session, Deputy Minister of National Defense Chao Shih-chang (趙世璋) said the ministry supports the idea of Taiwan developing its own submarines.
However, he said that factors such as design blueprints, key construction technologies and problems with kitting the vessels out with weaponry and other military equipment have to be addressed before the project can be launched.
CSBC chairman Paul Tang (譚泰平), who also attended the session, said he was "confident that the company is capable of building the submarine platform," but that it does not have the ability to obtain the onboard weaponry systems or other needed military equipment. The lawmakers also brought up the issue that no significant progress has been made since the US government agreed in 2001 to help Taiwan acquire eight diesel-electric submarines.
Asked by DPP Legislator Hsiao Bi-khim (蕭美琴) whether the ministry was taking any steps toward acquiring submarines from a foreign country or building the subs by itself, Chao said Washington was still assessing the situation.
KMT Legislator Lin Yu-fang (林郁方) also accused the ministry of failing to act in response to the idea of CSBC building the submarines.
"We should at least show our resolve to build subs if we want further help from the US," Lin said.
Meanwhile, Minister of National Defense Kao Hua-chu (高華柱) said that if CSBC can overcome the weaknesses it has pointed out, the ministry would be willing to cooperate on domestic production of submarines. Kao added that Taiwan still wants to acquire eight more submarines.
Comments will be moderated. Keep comments relevant to the article. Remarks containing abusive and obscene language, personal attacks of any kind or promotion will be removed and the user banned. Final decision will be at the discretion of the Taipei Times.