KMT defends 'one country, two areas,' lambasts DPP
The Chinese Nationalist Party (KMT) yesterday said the "one country, two areas (一國兩區)" rhetoric about handling cross-strait relations was in line with the Republic of China (ROC) Constitution, dismissing Democratic Progressive Party (DPP) accusations that President Ma Ying-jeou (馬英九) had jeopardized Taiwan's sovereignty.
The "one country, two areas" concept is consistent with Ma's "three noes" policy under the structure of the ROC Constitution, and the term "one country" refers to the ROC, KMT spokesman Yin Wei (殷瑋) said yesterday.
"The 'one country, two areas' concept highlights the sovereignty of the ROC. The country's sovereignty was confirmed more than 20 years ago in legislation and constitutional amendments," he said, adding that the definition had not changed under the administrations of former presidents Lee Teng-hui (李登輝) and Chen Shui-bian (陳水扁).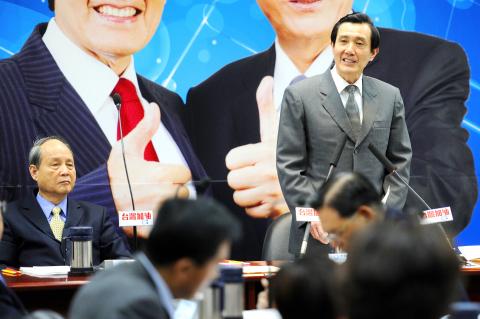 President Ma Ying-jeou addresses a meeting of the Chinese Nationalist Party (KMT) Central Standing Committee yesterday.
Photo: George Tsorng, Taipei Times
Yin shrugged off a DPP demand that Ma and the KMT explain why they unilaterally made such a crucial decision about Taiwan's status without public discussion, saying that the DPP had also established its own China policies under the same constitutional structure.
"The Presidential Office has clearly explained that 'one -country' means the 'ROC,' and under the same standards, shouldn't the DPP ask former chairperson Tsai Ing-wen (蔡英文) to explain the DPP's China policy, too?" Yin asked.
Ma, when presiding over the KMT's Central Standing Committee yesterday in his capacity as KMT chairman, challenged the DPP and Tsai over their China policy, saying the DPP had no leg to stand on in criticizing the "one country, two areas" concept.
Saying that Tsai, a former Mainland Affairs Council minister, had in the past proposed a "one country, four areas" concept for cross-strait relations and China's relations with Hong Kong and -Macao, Ma added: "As an advocate of 'one country, four areas,' Tsai should be the last person to think that the 'one country, two areas' proposal is dangerous."
Late yesterday, Tsai issued a statement in response, saying Ma's remarks "stealthily substituted one thing for another" and was an attempt to obscure the focus and look for excuses.
Tsai said the "one country, four areas" concept was intended to explain domestic laws governing interaction among people from Taiwan, China, Hong Kong and Macao. Nowhere did it pertain to cross-strait relations, she said.
Additional reporting by staff writer
Comments will be moderated. Keep comments relevant to the article. Remarks containing abusive and obscene language, personal attacks of any kind or promotion will be removed and the user banned. Final decision will be at the discretion of the Taipei Times.