BIRD FLU: Official at WHO says H5N2 is low risk for humans
DON'T WORRY: The official said while there was always a possibility the H5N2 virus could mutate, at present the risk to human health from the outbreak was very low
A WHO official said on Thursday that there have been no confirmed cases of H5N2 avian influenza affecting humans and the possibility of the virus seriously affecting human health in a way similar to the more virulent H5N1 was low.
Gregory Hartl, spokesperson for the WHO's Global Alert and Response Network, told the Central News Agency that H5N2 is one of many avian flu viruses and that it is unpredictable, but so far there have been no confirmed cases of humans contracting the H5N2 virus.
It is possible that there might be incidents of the H5N2 virus existing undetected in humans and the virus might affect humans in the future, but the present risk to humans was low, he said.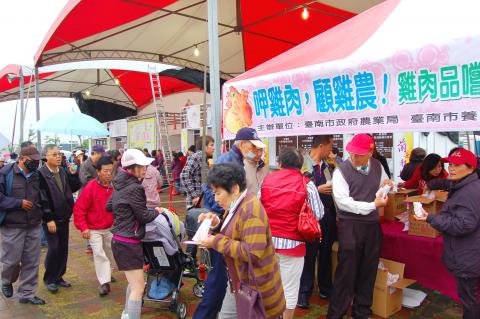 Chicken farmers give out free chicken in Greater Tainan yesterday in an attempt to get people to support local chicken products amid a bird flu scare.
Photo: Wang Han-ping, Taipei Times
The official made the remarks after Taipei alerted the World Organization for Animal Health on March 3 that a highly pathogenic H5N2 strain had been detected and resulted in a recent outbreak.
According to Department of Health Deputy Minister Lin Tzou-yien (林奏延), blood samples from nine workers at a poultry farm in Changhua County were tested, but the H5N2 virus was not detected.
In Greater Tainan, where about 4,000 chickens were culled last month after the H5N2 virus found at a farm was confirmed to be highly pathogenic, 38 workers have had blood samples taken, Lin said, adding that the test results had not come back yet.
He said H5N2 is a commonly found virus among birds and the "highly pathogenic" tag refers to the high infection rate among birds affected by the virus, not its possible effect on humans.
He added that no global medical data showed that H5N2 had infected humans.
He called for Taiwanese not to panic over the latest H5N2 outbreak, suggesting that chicken and eggs be fully cooked before being consumed.
Comments will be moderated. Keep comments relevant to the article. Remarks containing abusive and obscene language, personal attacks of any kind or promotion will be removed and the user banned. Final decision will be at the discretion of the Taipei Times.