Tibet freedom activists submit petition to Ma
MAKING A STAND: The supporters said that closer economic ties with China should not prevent Taipei from taking a strong stance on human rights in Tibet
Carrying model coffins and singing the Tibetan national anthem, dozens of Tibetans and Taiwanese supporters of Tibetan independence yesterday marched along Ketagalan Boulevard in Taipei and submitted a petition urging President Ma Ying-jeou (馬英九) to pay more attention to the state of human rights in Tibet.
The activists, who carried the cardboard coffins to symbolize the 28 self-immolations by Tibetans since March last year amid a renewed clampdown by Chinese authorities, condemned the Chinese government for its continuous repression of Tibet and reminded Ma of his previous promise to take an interest in human rights issues in the region.
"President Ma voiced his support for Tibet's struggle for freedom when running for president in 2008. However, since then, he has not openly shown his support. Taiwan's closer economic ties with China should not prevent our government from taking a strong stance on human rights in Tibet," Taiwan Friends of Tibet deputy director Yiong Cong-ziin (楊長鎮) said.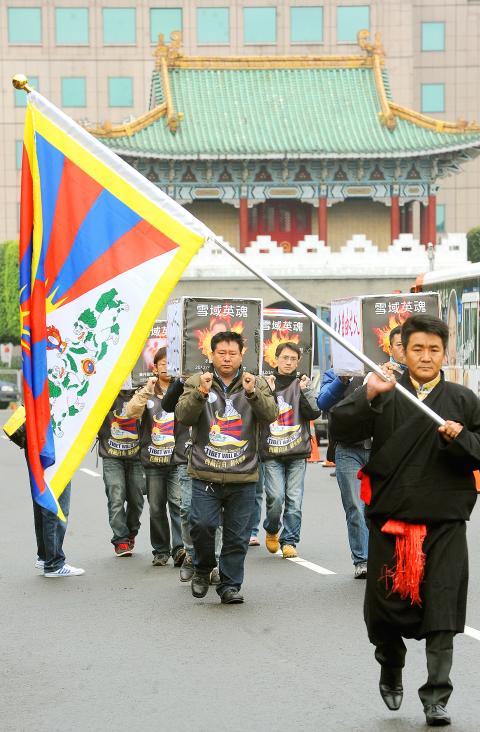 Tibetans and Taiwanese supporters of Tibetan independence hold up flags and carry model coffins as they march along Ketagalan Boulevard in Taipei yesterday.
Photo: Liu Hsin-de, Taipei Times
Amnesty International Taiwan board member Tashi Tsering, an Indian-born Tibetan-Taiwanese, said Tibetans had been fighting for religious freedom and their human rights in a peaceful way and that people were setting themselves on fire because the situation in the region had become unbearable.
"We need to defend our right to religious freedom and ask for the return of [Tibetan spiritual leader] the Dalai Lama," he said.
"The fight for freedom and human rights in Tibet is not only for Tibetans ... the international community should join us in asking for change in China," he said.
Police and security guards carefully monitored the group as it later marched from the Taipei Guest House to the Presidential Office to hand over a petition to Ma, calling on him to pay attention to human rights.
A staff member from the Presidential Office's public relations division received the petition and promised to relay the group's concerns to Ma.
Ma, who had expressed sympathy for Tibet's independence movement during the 2008 presidential campaign, rejected a proposal later that year, after he had been elected, for the Dalai Lama to visit the country.
Yang Cheng-shin (楊正欣), a member of Taiwan Students for a Free Tibet, said the group hoped that the president would openly voice his concerns about China's human rights situation and hold regular meetings with civic groups and human rights advocates to monitor the state of human rights in Tibet.
The group also invited the public to join a rally today in commemoration of the 52nd anniversary of the 1959 Tibetan uprising. The rally is scheduled to begin at 2pm in front of Zhongxiao Fuxing MRT Station.
Comments will be moderated. Keep comments relevant to the article. Remarks containing abusive and obscene language, personal attacks of any kind or promotion will be removed and the user banned. Final decision will be at the discretion of the Taipei Times.