US congressman chimes in on Jeremy Lin's roots
Amid a recent war of words between Taiwan and China over the ancestral homeland of rising NBA star Jeremy Lin (林書豪), a US lawmaker yesterday stressed the Taiwanese American's US roots during a meeting with President Ma Ying-jeou (馬英九).
The US-born Lin, whose parents are Taiwanese immigrants, has been hailed as "the glory of Taiwan" and attracted discussions on his identity.
Meeting with visiting a US congressional delegation at the Presidential Office in the morning, Ma promoted bilateral relations between Taiwan and the US and said the two nations valued democracy and peace.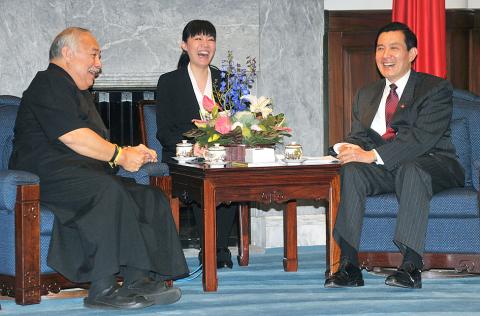 US Representative Eni Faleomavaega, left, President Ma Ying-jeou, right, and their interpreter laugh during Faleomavaega's visit to the Presidential Office in Taipei yesterday.
Photo: CNA
Besides, "we both appreciate Jeremy Lin," Ma said.
US Representative Eni Faleomavaega from American Samoa, a ranking member on the US House Foreign Affairs Subcommittee on Asia and the Pacific, countered by stressing that Lin is a US citizen.
"I'm sorry to tell you that Jeremy Lin is an American, a true-blooded born American who happens to be of Taiwanese ancestry, and we are proud to have him," he said, drawing laughs from Ma and the guests.
Faleomavaega then applauded the achievements of the 19 million Asian Americans in the US and said the US appreciated their accomplishments.
Ma stressed the government's efforts in promoting relations with US and China and thanked Washington for its assistance to Taiwan as the country tries to improve relations with China.
"Replacing conflicts with reconciliation and replacing confrontations with negotiation will remain the principles of my cross-strait policies during my second term," Ma said.
As to the bilateral relations between Taiwan and the US, the president said the two sides would continue to develop positive relations, while maintaining rounds of negotiations on major issues.
Comments will be moderated. Keep comments relevant to the article. Remarks containing abusive and obscene language, personal attacks of any kind or promotion will be removed and the user banned. Final decision will be at the discretion of the Taipei Times.