FEATURE: Plan to 'ban' children at dragon dances raises ire
EXPLOSIVE MATERIAL: Officials now plan to discourage schoolchildren from joining dragon dance troupes after concerns were raised about possible gang affiliations
Although the Hakka community in Miaoli County celebrated Lantern Festival with a traditional "dragon bombing" event a week ago, the county government has now triggered controversy with an announcement that it plans to ban schoolchildren from participating in dragon dance troupes.
"Bomb the dragon's head, Bomb the dragon's head" Miaoli County Commissioner Liu Cheng-hung (劉政鴻) shouted, as members of the Miaoli City cleaning squad threw firecrackers at dancing dragons on Sunday. The "Night of Dragon Bombing" was organized by the Miaoli City government.
"Anyone who hits the dragon on the head, come up on stage to receive a cash award," Liu added.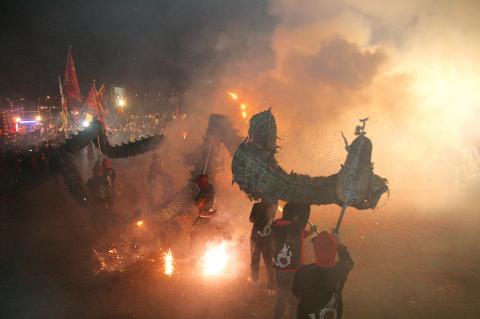 Dragon dancers guide their dragon through a sea of firecrackers thrown at them during the "Night of Dragon Bombing" in Miaoli County on Sunday last week.
Photo: Loa Iok-sin, Taipei Times
A total of 12 dragon dance troupes guided their dragons through a sea of firecrackers thrown directly at them, in front of tens of thousands of onlookers that night.
In addition, all the dragons were handmade.
"Bombing the dragon" is listed by the Hakka Affairs Council as one of the nation's "12 Hakka festivities," and is a unique way to celebrate Lantern Festival.
"Dragon bombing is unique to the Hakka people of Miaoli County," Chu Chun-yi (朱君毅), chairman of the Dragon Bombing Development Association and manager of three dragon dance troupes, told the Taipei Times during a telephone interview.
"It is a tradition that has been passed down by our ancestors — no one is sure when it started, whether it developed locally, or our ancestors brought it over when they moved from China centuries ago," he added.
The dragon is traditionally considered a symbol of good fortune, while firecrackers are believed to drive away evil spirits. Hence, locals believe that throwing firecrackers at dancing dragons can bring prosperity for the year, Chu said.
Most dragon dance troupes are sponsored by local communities and businesses, and members are usually community residents — especially young people — or employees and their families, he said.
"Residents of participating communities collaborate to make the dragons, and the dragons' eyes are painted only on the ninth day of the first lunar month, which is a symbolic gesture marking the completion of the dragon, because people believe the dragons are empowered once the eyes have been painted," Chu said.
After the ritual, dragon dance troupes dance in front of businesses or give private dances, hoping to receive red envelopes stuffed with cash in return.
Following the official dragon bombing event, the dragons are to be burned in front of temples, symbolizing the sacred animal's return to heaven, along with the smoke, Chu said.
However, many people are -worried that the tradition could face a rocky future following a decision by Miaoli County government to ban elementary, junior high, and senior high school students from joining in lion or dragon dance troupes.
"Yes, it is our policy to discourage schoolchildren from joining lion or dragon dance troupes, because some of these troupes have connections to criminal organizations, and we do not want young people to become gangsters or use drugs when they join these troupes," Miaoli County Government Secretary--General Yeh Chih-hang (葉志航) said.
Miaoli County police chief Tseng Yi-chiung (曾義瓊) said that at the moment, they are only discouraging students from joining troupes: "The ban is not legally binding, but we do notify schools and parents, urging them to keep an eye on their kids."
He said that in order to maintain the tradition, "we encourage students interested in the activity to join dragon dance troupes organized by schools."
However, Tseng said that the police had no figures on how many dragon dance troupes are connected to organized crime.
"We do not have any statistics showing the percentage of dragon dance troupes connected to gangsters," he said. "We do follow up with people who have gang affiliations, but not many people actually have connection to dragon dance troupes."
Chen Wei-ting (陳為廷), a spokesman for Miaoli Youth and an undergraduate student at National Tsinguhua University, -criticized the county government over the policy.
"Dragon bombing has traditionally been a community-oriented activity in which people from the same village work together to make the dragon. They practice on their own and it helps to develop a sense of solidarity within the community," Chen said. "This is something that school-organized dragon dance troupes cannot do."
He said that most dragon dancers begin to practice as children.
"That's why a lot of dragon troupe leaders are only in their 20s," he added.
"If you're banning young kids from joining dragon dance troupes, the tradition will just die out, because it is too late for adults to pick up the skills, and they won't have the time either," Chen said.
Chu said it was ridiculous that the county government believes it can eliminate organized crime by banning children from joining dragon dance troupes.
"Most people don't join gangs through dragon dance troupes, and most troupes have no connection to criminal organizations," he said. "The kids are with us for about 15 days during the Lunar New Year holidays practicing and taking part in dragon dancing — what about the other over 300 days when they are at school?"
Hakka Affairs Council Vice Minister Chung Wan-mei (鍾萬梅) also disagreed with the county government's policy.
"The majority should not pay for the mistakes of a few," he said. "There are more positive things connected to dragon bombing than negative. It should be promoted rather than discouraged."
Comments will be moderated. Keep comments relevant to the article. Remarks containing abusive and obscene language, personal attacks of any kind or promotion will be removed and the user banned. Final decision will be at the discretion of the Taipei Times.