Lin becomes KMT secretary-general
PARTY STALWART: President Ma Ying-jeou, who also serves as KMT chairman, showed support for Lin Join-sane, but said Lin must be mentally prepared for the job
Lin Join-sane (林中森) became the secretary-general of the Chinese Nationalist Party (KMT) yesterday, vowing to complete the missions set forth by the party and party chairman. Lin said he hoped to reconcile party affairs with public opinion, so that the voices of people at the grassroots level could get through to the government via the party.
Lin, 67, previously served as Kaohsiung deputy mayor, deputy minister of the interior and Executive Yuan secretary-general. He replaces Liao Liou-yi (廖了以) as KMT secretary-general.
President Ma Ying-jeou (馬英九), who doubles as KMT chairman, was supportive of Lin, but reminded him that it was a "tough job" and that he needed to be mentally prepared for it. Ma said the public has seen the party engage in many substantive reforms, but feels they are insufficient.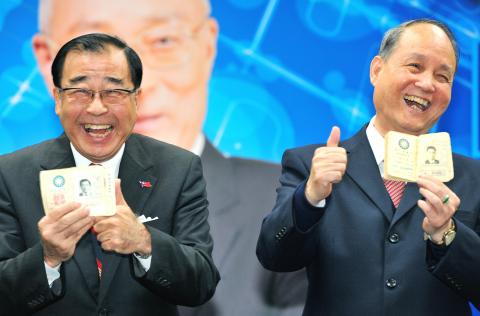 Incoming Chinese Nationalist Party (KMT) Secretary-General Lin Join-sane, right, and his predecessor, Liao Liou-yi, display their party cards at KMT headquarters in Taipei yesterday, showing that both of them joined the party in 1966.
Photo: Chien Jung-fong, Taipei Times
"We hope there will be more reform so that the grand old party can have a new look in its centennial year," Ma said. "Lin is good at coordinating. His low-key style always enables him to complete his mission."
He also praised Lin as someone well-versed in a wide range of fields, from relations between the central and local governments to planning and construction, and from social welfare to national parks.
The president commended the Liao for a job well done, saying that he had reluctantly accepted Liao's request to resign because he had repeatedly asked for more time with his 98-year-old mother.
Liao would not confirm -reports that he will become the head of the Association of East Asian Relations, which handles Taiwan's relations with Japan in the absence of formal diplomatic ties.
Comments will be moderated. Keep comments relevant to the article. Remarks containing abusive and obscene language, personal attacks of any kind or promotion will be removed and the user banned. Final decision will be at the discretion of the Taipei Times.