Taiwan and Israel ink aviation agreement
GROWING TIES: The pact, which opens the road to direct air services, comes after a series of other agreements that cover tax-related issues as well as visa-waiver travel
Taiwan and Israel signed an aviation agreement on Monday, as part of their efforts to establish closer ties between the two countries following a visa-waiver agreement that took effect in August last year, officials from both sides said yesterday.
"Although the number of tourists would not justify direct air services, I think this will happen because we have seen a lot of progress in recent months," said Ophia Gore, director of economic affairs at the Israel Economic and Cultural Office in Taipei.
Gore said the number of Taiwanese travelers to Israel has increased by 20 to 30 percent since the introduction of a visa-free regime for Republic of China nationals.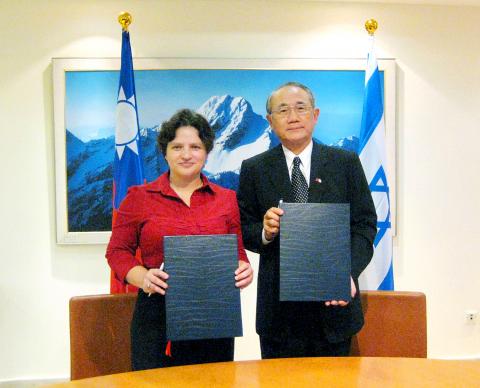 Israeli Representative to Taiwan Simona Halperin, left, and Taiwanese Representative to Israel Chang Liang-jen hold up copies of an aviation pact after signing it at the Taipei Economic and Cultural Office in Tel Aviv on Monday.
Photo: CNA, courtesy of the Israel Economic and Cultural Office in Taipei
According to the Ministry of Foreign Affairs, the number of bilateral visits by businesspeople and tourists was estimated at 7,000 in 2010.
"It's still a pretty low number," Gore said, but added he expected carriers would be interested in launching direct air services a few months or a few years later "because the visa-waiver treatment will bring more tourists from Israel to Taiwan and vice versa."
The pact would allow carriers from the two countries to use each other's airspace to provide services for passengers or freight and to set up offices in their respective countries. It also regulates carriers' operations, covering tariffs, the number of flights, capacity, rules on fair competition and business opportunities.
Lin Jinn-jong (林進忠), director-general of the Department of West Asian Affairs, said the aviation pact, which follows an agreement on double-taxation avoidance and preventing tax evasion in 2009 and last year's visa-waiver agreement, was testimony to significant progress in bilateral relations in recent years.
Taiwan and Israel recently also reached a consensus over the establishment of a working group to study the feasibility of signing a free-trade agreement by next year.
Government statistics show bilateral trade totaled NT$28.1 billion (US$927.4 million) in the first eight months of last year, up more than 17 percent from the previous year.
The aviation pact was signed at the Taipei Economic and Cultural Office in Tel Aviv by Taiwanese Representative to Israel Chang Liang-jen (張良任) and Israeli Representative to Taiwan Simona Halperin on behalf of their respective governments.
Taiwan's Civil Aeronautics Administration said there was no carrier providing direct passenger-flight services between Taiwan and the Middle East, while direct cargo flights are available from Taiwan to Dubai and Abu Dhabi.
Comments will be moderated. Keep comments relevant to the article. Remarks containing abusive and obscene language, personal attacks of any kind or promotion will be removed and the user banned. Final decision will be at the discretion of the Taipei Times.