2012 ELECTIONS: Tsai to deliver cross-strait ties talk on Kinmen
THE HOME STRAIGHT: DPP presidential candidate Tsai Ing-wen began the final phase of her campaign tour in Pingtung County, a traditional DPP stronghold
Democratic Progressive Party (DPP) presidential candidate Tsai Ing-wen (蔡英文) is scheduled to visit Kinmen tomorrow and deliver a major speech on cross-strait relations.
"Kinmen is a place with great meaning and implications for cross-strait relations ... We would like to go there and appeal for people's support," Tsai said yesterday at a campaign stop in Manjhou Township (滿州) in Pingtung County.
The outlying islands are also special to Tsai, who established the "small three links" in January 2001, during her tenure as the Mainland Affairs Council chairperson between 2000 and 2004.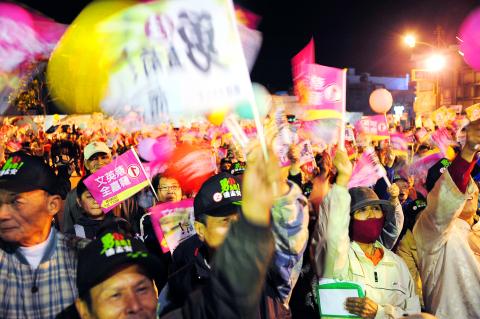 More than 1,000 supporters of Democratic Progressive Party presidential candidate Tsai Ing-wen wave her campaign flags yesterday at a rally in Hengchun Township, Pingtung County.
Photo: Tsai Tsung-hsiang, Taipei Times
The small three links, which allow limited transportation, postal and trade exchange between Xiamen, Mawei and Quanzhou in China's Fujian Province and the islands of Kinmen and Matsu, is regarded as the first step of the eventual three links that liberalized cross-strait activities.
Tsai said she would like to take a look at the links, which are said to have operated well throughout the years, and take the opportunity of the visit to share deeper thoughts on the crucial cross-strait relationship.
The trip to Kinmen had been called off once before after the National Security Bureau advised Tsai against making the visit because of security and weather concerns.
With two weeks left before election day on Jan. 14, Tsai said her campaign has entered its final phase, in which she will seek every opportunity for direct, face-to-face contact with people across the country.
The DPP would like to secure at least 65 percent of the vote in Pingtung County, one of the DPP's traditional strongholds, DPP Legislator Pan Men-an (潘孟安) said.
Tsai began the final phase of the campaign in Pingtung County, where she is from, yesterday, visiting the townships of Manjhou, Hengchung (恆春), Neipu (內埔) and Donggang (東港).
Tsai is scheduled to attend two large rallies every day until the Jan. 14 elections.
Comments will be moderated. Keep comments relevant to the article. Remarks containing abusive and obscene language, personal attacks of any kind or promotion will be removed and the user banned. Final decision will be at the discretion of the Taipei Times.