Breast cancer patients rally for NHI coverage
Struggling to pay huge medical bills, a group of breast cancer patients and their supporters appealed to the Control Yuan yesterday to look into the National Health Insurance (NHI) system not covering the cost of treatments that fight the disease with drugs that are taken orally.
The group chanted slogans such as "I want to live," "Give back my rights to be treated," while holding posters that read: "How much does a life cost?"
Hsieh Ruey- kuen (謝瑞坤), director of Makay Memorial Hospital's Cancer Center, who accompanied the patients to present their petition to the Control Yuan, said the Bureau of National Health Insurance (BNHI) was delinquent in its duty to ensure "fairness" and "transparency" in the NHI reimbursement system.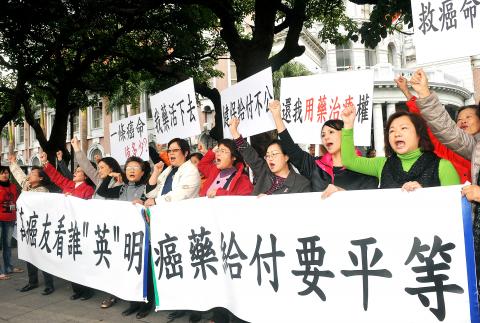 Cancer patients and supporters protest outside the Control Yuan in Taipei yesterday against disparities in the coverage of certain cancer treatments by the National Health Insurance system.
Photo: Chien Jung-fong, Taipei Times
"I have made repeated suggestions to the bureau about the problems, but to no avail. That's why we took this case to the Control Yuan," said Hsieh, who previously served as a member of the bureau's Drug Benefit Committee, which is responsible for making recommendations to the bureau regarding reimbursement for new drugs.
In view of the fact that NHI coverage is a matter of life and death for patients, the Control Yuan should urge the bureau to be more accountable to the public regarding its decisions to cover certain drugs and not others, Hsieh said.
"The bureau has to disclose all the minutes of its meeting when deciding NHI reimbursement coverage and establish rules to follow when deciding about coverage," Hsieh said.
The protesters asked that the drug Tykerb — which costs a patient NT$75,740 a month and can extend a patient's life by four months on average — be included as breast cancer treatment covered by the NHI system.
The NHI does cover the drug Herceptin, which costs NT$77,881 a month before coverage and can prolong life by a patients life by an additional 3.7 months on average.
The bureau owes the public an explanation about why it refuses to cover Tykerb, Hsieh said.
Taiwan Breast Cancer Alliance founder Gloria Lin (林葳婕) said the exclusion of Tykerb placed an unbearable financial burden on people with breast cancer.
"The policy is unfair to the patients. They pay insurance premiums every month as ordinary people, but they are been deprived of chances to be treated," Lin said.
Comments will be moderated. Keep comments relevant to the article. Remarks containing abusive and obscene language, personal attacks of any kind or promotion will be removed and the user banned. Final decision will be at the discretion of the Taipei Times.