Missile tests halt after Kim's death
STABILITY: The foreign affairs minister said he foresees the situation on the Korean Peninsula remaining stable, which is why there was no change to the travel warning
The military has suspended its regular missile and artillery tests in response to the death of North Korean leader Kim Jong-il and will stay abreast of the situation on the Korean Peninsula, a military official said yesterday.
"Upon learning of the death of Kim Jong-il, Minister of National Defense Kao Hua-chu (高華柱) called a meeting of senior military officials and gave a directive on Taiwan's response," Major-General Hau Yi-chih (郝以知) said at a press briefing.
In an effort to help maintain security in the East Asia region, the ministry has now suspended missile tests launched from Taiwan proper and artillery tests conducted on Taiwan's outlying islands, Hau said.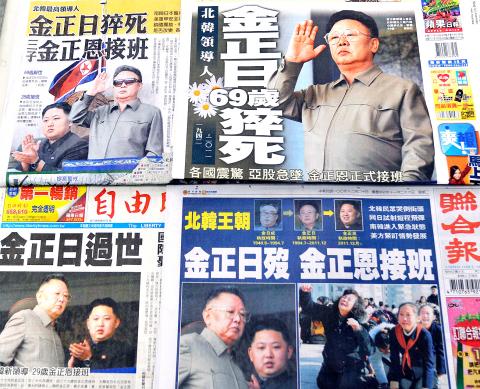 Former North Korean leader Kim Jong-il is pictured on the front pages of major Taiwanese newspapers in Taipei yesterday.
Photo: PATRICK LIN/AFP
"This will help avoid any inappropriate speculation," he said.
The ministry's overseas officials and its intelligence agency will also continue to keep a close eye on the developments in North Korea and its neighboring countries, Hau said.
The navy, air force and army will stay on alert and will "maintain regular combat readiness," he said.
When asked about Taiwan's plans in the event of rising tensions between the two Koreas, ministry spokesperson Colonel David Lo (羅紹和) declined to comment.
In response to an op-ed published in Defense News last month, in which military analyst Roger Cliff said China might test fire an anti-ship missile before the presidential election on Jan. 14, Lo said the ministry had a full grasp and understanding of the developments across the Taiwan Strait.
Meanwhile, Minister of Foreign Affairs Timothy Yang (楊進添) said he expects the situation on the Korean Peninsula to move toward stability, rather than falling into turmoil in the wake of Kim's death.
"It seems like the situation is stable. There shouldn't be a major convulsion. The possibility of an incident cannot be ruled out, but the situation is more likely to remain stable," Yang told reporters.
Yang, who attended a meeting organized by the National Security Council on Monday in response to the announcement of Kim's death, said his comments were based on an initial estimate of the situation.
There could be a possibility that "North Korea continues to resort to brinkmanship to divert attention away from its own internal problems and for the sake of national consolidation," a scenario that the government would pay close attention to, but would not want to see, Yang said.
"What the government of the Republic of China is concerned most about is security and peace in North Asia. I believe many countries hold the same view," Yang said.
Yang said the Ministry of Foreign Affair's missions in South Korea, Japan and the US were keeping in close contact with their host countries to keep abreast of the situation.
Meanwhile, despite the fact that South Korea has put its military on high alert, the foreign ministry has no plan to elevate its travel alert for the country, Ministry of Foreign Affairs spokesperson James Chang (章計平) said.
Travel schedules of local tour groups to South Korea have not been affected and an estimated 23,000 Taiwanese living in South Korea, including 100 students and between 20 and 30 businesspeople, remain safe, Chang said.
Comments will be moderated. Keep comments relevant to the article. Remarks containing abusive and obscene language, personal attacks of any kind or promotion will be removed and the user banned. Final decision will be at the discretion of the Taipei Times.