Farmers protest broken land promises
BLIND JUSTICE: Protestors demanded a public role in land seizure decisions, that land be valued by appraisers and that officials present resettlement plans before expropriation
Farmers and farming activists yesterday rallied in front of the Legislative Yuan in Taipei, condemning the government for breaking its promises on amending the law ahead of a planned review of amendments to the Land Expropriation Act (土地徵收條例) by the legislature next week.
"Premier Wu Den-yih (吳敦義) promised he would meet farmers and their advocates before submitting the Executive Yuan's amendments to the Land Expropriation Act, when responding to our petition back in July. However, nothing has happened," said Thomas Chan (詹順貴), an attorney and long-time farming rights activist, who has long represented farmers in lawsuits against land expropriation. "The government simply does not want to listen to what the people have to say."
A review of proposed amendments to the law is scheduled for Monday and Tuesday, but activists are concerned that the Cabinet version could be simply rubber-stamped because the Chinese Nationalist Party (KMT) has an absolute majority in the legislature.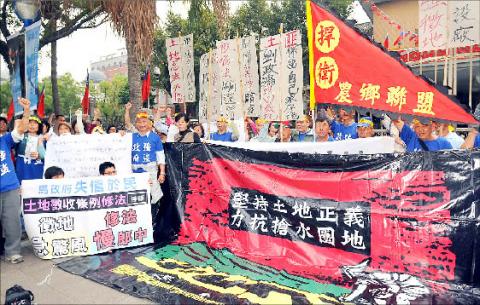 Supporters of the Alliance for Justice in Land Use display signs and banners outside the Legislative Yuan in Taipei yesterday, calling on the legislature to carefully review and amend the Land Expropriation Act.
Photo: CNA
Cabinet-proposed amendments say landowners would be compensated according to the market price of the land as opposed to the published price, which is usually much lower than the market price, but Chan said that would make no difference.
"It would make no difference because the published price at the moment is decided by the local government's land value assessment commission and the 'market price' would still be decided by such commissions according to the Cabinet's design," Chan said.
In addition, although Wu also promised that the government would take over land in designated special agricultural zones only as a last resort, the Cabinet-proposed amendments stipulate that certain public construction projects, such as "environmental facilities" could still be built on land in special agricultural zones.
"Do you know what 'environmental facilities' are? They are garbage dumps or incinerators. Can those facilities be built on farmland? Would you eat farm produce grown on land that's right next to a garbage dump or an incinerator?" Chan asked.
Alliance for Justice in Land Use spokesman Huang Kuo-shu (黃國書) accused President Ma Ying-jeou (馬英九) of deceiving the public.
"President Ma deceived the people in his re-election bid when he promised to fix the expropriation system," he said. "We demand public participation in the decisionmaking for land seizure, we demand that the land value be assessed by at least three real-estate appraisers, and we demand that the government comes up with a resettlement plan before taking over people's homes and land."
Hsieh Chien-hsiang (謝見祥), an 84-year-old farmer from Hsinchu County's Jhudong Township (竹東) whose farmland is also to be expropriated as part of the expansion of the Hsinchu Science Park, called the government's seizure of land an organized crime.
"I want to keep my land, I want to grow stuff on it. I thought the government was supposed to protect our right to work, to survive and own property as it says in the Constitution, but the government is doing just the opposite," he said in Hakka. "You take over farmland and build high-rise buildings or factories on them, but you can't eat buildings. How are we going to eat during a food crisis? What kind of government is this?"
Peng Hsiu-chun (彭秀春), a resident in Dapu Borough (大埔) of -Miaoli County's Jhunan Township (竹南), said that without a law specifically protecting people's rights, everyone would live in constant fear.
"Right now it's my place that's going to be expropriated, but you could be the next victim if the law remains unchanged," she said.
The activists called on the government and the legislature to pass amendments that would protect farmlands for food security and establish criteria for the evaluation of the public interest and necessity involved in all expropriation plans. They called for public participation in the decisionmaking process, a better compensation system and efforts to ensure that everyone is resettled before land is expropriated, and the revision of all relevant laws accordingly.
Comments will be moderated. Keep comments relevant to the article. Remarks containing abusive and obscene language, personal attacks of any kind or promotion will be removed and the user banned. Final decision will be at the discretion of the Taipei Times.