Kinmen unveils monument in honor of US officer
The Kinmen Defense Command (KDC) unveiled a cenotaph on Tuesday to commemorate the late Lieutenant Colonel Frank Lynn of the US, who died in a Chinese artillery bombardment on Sept. 3, 1954, on Kinmen.
The monument was erected at Shueitou Wharf (水頭港) to mark the 57th anniversary of the attack and highlight the history of Taiwan-US friendship and the alliance that fought for democratic freedom, KDC officials said.
It was placed next to the cenotaph of Lieutenant Colonel Alfred Medendorp, which was installed at the wharf in August 1992. Medendorp was killed in the same bombing.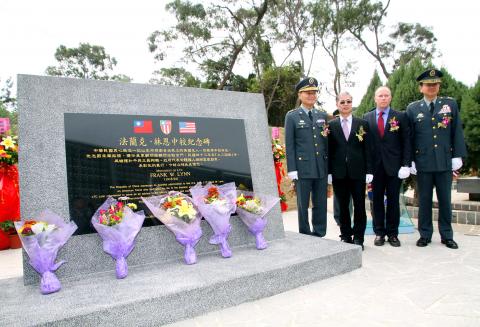 American Institute in Taiwan liaison officer Chris Patton, second right, stands with officials from the Ministry of National Defense at the unveiling of a cenotaph commemorating US Lieutenant Colonel Frank W. Lynn in Kinmen County on Tuesday.
Photo: CNA
Aside from being an expression of gratitude, the cenotaphs are a reminder to future generations to treasure freedom and democracy and to help strengthen friendly relations between Taiwan and the US, said General Lee Hsiang-chou (李翔宙), who presided over the ceremony.
Chris Patton, a liaison officer at the American Institute in Taiwan, thanked Taiwan for constructing the monuments and saluting the officers for their sacrifice.
The cenotaphs are a witnesses to Taiwan's role in maintaining peace in Asia and an emblem for fighters of peace, Patton said.
The cross-strait conflict of 1954 was an attempt by China to deter Taiwan from signing a bilateral security agreement with the US. The Chinese communists fired more than 100 artillery shells at Kinmen from military bases in Fujian Province.
KDC officials said the two Americans, who had volunteered to serve in Taiwan, sacrificed themselves for peace and justice, and their deaths indirectly hastened the signing of the Sino-American Mutual Defense Treaty between the Republic of China and the US in December 1954, which helped protect Taiwan from being invaded by China.
The treaty was terminated in 1980, a year after the US established diplomatic relations with China.
Comments will be moderated. Keep comments relevant to the article. Remarks containing abusive and obscene language, personal attacks of any kind or promotion will be removed and the user banned. Final decision will be at the discretion of the Taipei Times.