2012 ELECTIONS: Tsai hopes strong debate will extend lead over Ma
Democratic Progressive Party (DPP) presidential candidate Tsai Ing-wen (蔡英文) is working hard and looking forward to the first of three crucial TV presidential debates, which will be held on Saturday.
With recent public opinion polls showing Tsai has overtaken President Ma Ying-jeou (馬英九), who is seeking re-election, in public support, Tsai will seek to solidify her lead in the presidential race with strong performances in the debates.
Candidates representing the Chinese Nationalist Party (KMT), the DPP and the People First Party (PFP) will take part in the debates, which will take place on Saturday, Dec. 10 and Dec. 17, and will be hosted by the Central News Agency and five other media outlets — Public Television Service (PTS), the China Times, the Liberty Times (the Taipei Times' sister newspaper), the United Daily News and the Apple Daily.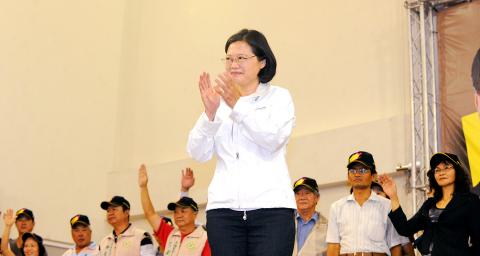 Democratic Progressive Party presidential candidate Tsai Ing-wen is surrounded by campaign workers at a campaign event at a high school in Greater Kaohsiung yesterday.
Photo: Huang Chih-yuan, Taipei Times
The first debate will be held from 2pm to 4:30pm on Saturday and will be moderated by the organizing media outlets. The second will be moderated by representatives from NGOs.
The DPP is using Tsai's speech at the American Chamber of Commerce in Taipei last week to prepare for the debates, as Tsai spoke immediately after Ma on that occasion.
The party said it was pleased with the results.
The debates will be more than just an opportunity to extend Tsai's lead in the polls, but also an occasion for her to take "revenge" for the first debate between her and Ma last year, in which Ma was widely considered to have bested his opponent.
That debate took place in April last year, and centered on the Economic Cooperation Framework Agreement (ECFA).
While Tsai has long been known for her logic and recognized as an articulate speaker and a "thinker," most analysts said after the debate that Ma was more successful in appealing to the audience, despite dodging most of Tsai's questions.
Ma will not be Tsai's only opponent this time, with PFP Chairman James Soong (宋楚瑜) also entering the debates as the third presidential candidate.
While Soong is expected to focus most of his attacks on Ma, he is unlikely to give Tsai much breathing room.
Comments will be moderated. Keep comments relevant to the article. Remarks containing abusive and obscene language, personal attacks of any kind or promotion will be removed and the user banned. Final decision will be at the discretion of the Taipei Times.