FEATURE: Effectiveness of legal sex industry zones debated
Taiwan has legalized the creation of red light districts in a bid to regulate the sex industry, but prostitutes say the new law could actually worsen their plight.
Under the law passed by the legislature on Friday, local governments are allowed to set up special penalty-free sex trade zones, but outside them prostitutes will still be fined — as, for the first time, will their clients and pimps.
The Council of Grand Justices scrapped the previous law punishing only prostitutes on the grounds it was unfair, but so far no local authority has yet said it will create a legal prostitution area, leaving streetwalkers fearing they face the worst of both worlds.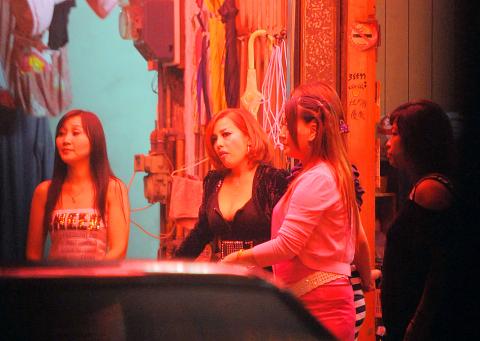 Red lights illuminate a brothel in Taoyuan County on Oct. 22.
Photo: Sam Yeh, AFP
The new law is a bid to protect women such as Mei Hsiang, a 58-year-old prostitute working in Taipei, but she fears it is more likely to put her out of business.
"As for the zones, I don't know where the local government can set them up, so it's empty talk," she said.
"Punishing the clients is worse than punishing us because the clients will not come for fear of being caught and fined and we won't be able to make a living," she said.
"I feel hopeless about the future because the police will go after street walkers who are at the bottom of the food chain," she said.
A recent survey of 22 local governments by the Chinese-language Apple Daily found none supported the plan, 21 rejected it and only one was still undecided.
"We will not consider opening a sex trade zone because there is no public consensus on this highly controversial issue," said Edward Zhang, spokesman for the Taipei City Government.
"Taipei is too crowded to provide a suitable location away from schools and residential areas," he said.
While there is no official figure for the scale of Taiwan's paid-for sex business, observers estimate it generates NT$60 billion (US$2 billion) a year.
Many of the establishments are operated under the guise of teahouses, massage parlors, skin care salons or nightclubs, while streetwalkers constitute less than 10 percent of the profession, observers say.
A handful of prostitutes are authorized to work under laws dating from 1956, but the government has stopped issuing new licenses to phase out old public brothels.
Chung Chun-chu (鍾君竺), chief of the advocacy group Collective of Sex Workers and Supporters, said the new legislation continues to discriminate against prostitutes.
"We are asking that no punishment is attached to the sex industry just like any other profession," she said. "The women are trying to earn a living and their working rights should be protected."
Some women's rights groups oppose the government plan for fear that red-light districts would breed more crime and human smuggling.
"We cannot eliminate the sex trade, but we can reduce its scale. It is wrong to legalize prostitution which exploits and discriminates against women," said Chi Hui-jung (紀惠容), executive director of the Garden of Hope Foundation.
Chi said the central government should have passed a law punishing only those who buy sex services, instead of "throwing the hot potato" to local authorities.
Deputy Minister of the Interior Chien Tai-lang (簡太郎) said it was a "highly divisive issue" and it was difficult to come up with a solution that everybody would support.
However, a taxi driver, who said he paid regularly for sex services, called the special zone policy "hypocritical."
"The rich and powerful can enjoy themselves at exclusive clubs without worrying about being caught, but regular people like me will have more troubles getting the services we need," he said.
Comments will be moderated. Keep comments relevant to the article. Remarks containing abusive and obscene language, personal attacks of any kind or promotion will be removed and the user banned. Final decision will be at the discretion of the Taipei Times.