2012 ELECTIONS: Soong claims PFP's computers hacked and phones tapped
People First Party (PFP) officials have had their phones tapped and their computers hacked, PFP Chairman James Soong (宋楚瑜) said.
In an interview published yesterday by online news source NOWNews, Soong was quoted as saying hackers had gained access to several party officials' e-mail accounts, which they then used to target the party's communication and information network by sending --e-mails embedded with viruses.
The hacking incident had severely hampered the party's ability to provide election information and to communicate, the party's presidential candidate was quoted as saying.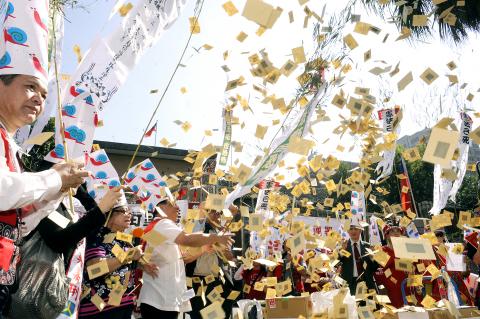 Prospective presidential candidates whose campaigns failed to gain enough signatures to be included on the presidential ballot throw ghost money as they protest in front of the Legislative Yuan in Taipei yesterday.
Photo: George Tsorng, Taipei Times
Soong added that he thought his phone had been tapped, saying: "Some people already knew and had prepared for things that I had only discussed over the telephone."
"Furthering oneself by killing a rival is the act of a despicable man," Soong said.
PFP spokesperson Wu Kun-yu (吳崑玉) yesterday said that since Soong announced his intention to run for the presidency, party officials, including Soong's personal assistant, had all received e-mails with Trojan horse viruses.
"It is a threatening move," Wu said, adding that its goal was to paralyze the PFP's ability to communicate.
Thomas Lee (李桐豪), a PFP policy adviser and professor at National Chengchi University, said he had asked the university's computer center to assist in tracing the attacks. However, the sender's IP address could not be traced, he said.
Wu said that the computer virus prevented officials from starting up their computers, the only effective method being to reinstall the operating system, resulting in a loss of data.
Wu said the PFP has asked the Taipei City Criminal Investigation Division and the Criminal Investigation Bureau's Ninth Investigation team to assist in the investigation.
In other news, Wu said the party yesterday afternoon sent the Central Election Commission's Taipei branch a second batch of signatures collected for Soong's presidential petition as the 45-day drive came to an end, bringing the number of signatures to 463,259.
Although the party received more than 500,000 signatures nationwide, Wu said some them were invalid because the terms were filled out improperly.
Additional reporting by Mo Yan-chih
Translated by Jake Chung, Staff Writer
Comments will be moderated. Keep comments relevant to the article. Remarks containing abusive and obscene language, personal attacks of any kind or promotion will be removed and the user banned. Final decision will be at the discretion of the Taipei Times.