2012 ELECTIONS: REPORTER'S NOTEBOOK: Tsai seeks the hearts of voters on east coast
EVERY VOTE COUNTS: Tsai's team said that her tour of communities that traditionally vote for the KMT, and to Orchid Island, shows the difference between her and Ma Ying-jeou
Perhaps the Democratic Progressive Party's (DPP) election campaign could have afforded to pay less attention to the counties of Hualien and Taitung, which, along with Yilan, cover the entire coast of eastern Taiwan.
From the perspective of securing votes, this massive rural area — which has a population of just 570,000, slightly more than New Taipei City's (新北市) perennial Chinese Nationalist Party (KMT) stronghold of Banciao (板橋) — probably matters little more than the outlying islands of Kinmen and Matsu.
Aborigines and Hakkas, two of the largest ethnic groups in the region, have traditionally favored the KMT, which explains why there have never been any DPP commissioners in the two counties and a DPP victory in legislative elections was more often than not considered a "miracle."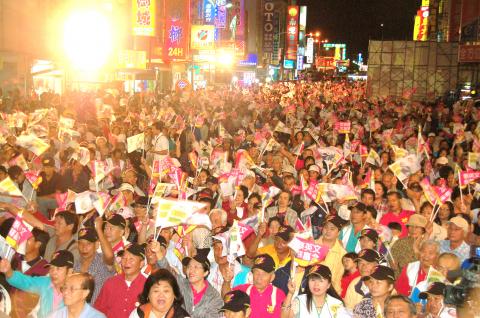 Supporters of Democratic Progressive Party Chairperson Tsai Ing-wen hold up flags and chant at an election rally in Taitung County on Oct. 31.
Photo: Chang Tsun-wei, Taipei Times
However, it seems DPP Chairperson Tsai Ing-wen (蔡英文), who has often been described as an "unorthodox" politician, wanted to defy both the odds and conventional wisdom with her presidential campaign trip last week. The route included visits to Aboriginal communities in Taitung, a motorcade traveling more than 100km through Hualien and a visit to Orchid Island (蘭嶼), which President Ma Ying-jeou (馬英九) has not visited during his term.
It is exactly in this region that Tsai is able to highlight the differences between her and Ma, who is seeking re-election.
She pledged to advance Aboriginal autonomy and laws related to Aboriginal lands and maritime space, some of which have been seized by governments for several decades, and establish a "new partnership" between the government and Aborigines to "correct the historical mistakes that have lasted for hundreds of years."
Ma advocates a "pragmatic approach" for Aboriginal autonomy, saying that it should be a step-by-step process and that the DPP's vision of "a nation within a nation" is not feasible. He ruled out fiscal independence and legislative rights in the autonomous regions.
On Orchid Island, where a nuclear-waste storage facility was built in 1982 by the government without first consulting the local people, Tsai apologized for the outrageous decision and reiterated her "2025 Nuclear-Free Homeland" initiative.
The initiative aims to phase out nuclear power by 2025 by decommissioning the three nuclear power plants currently in operation, preventing the operation of the Fourth Nuclear Power Plant — which is under construction — and using alternative energy resources.
Ma has also said he supports the nuclear-free idea, but has not proposed a timetable.
Eastern Taiwan will be critical to Tsai's national policy of agriculture and regional development because it is one of the most important agricultural produce regions, but lacks infrastructure development.
Speaking in rice-growing Yuli Township (玉里), Hualien County, Tsai said the DPP had pushed for the Statute for Development of the Hualien and Taitung Regions (花東地區發展條例) and the establishment of a NT$40 billion (US$1.3 billion) development fund, as well as a NT$100 billion development fund for rural areas.
The effort was the DPP's attempt to "balance" the development of various regions in Taiwan and revive Taiwan's agricultural sector, she said, because past administrations, including those of the DPP, "simply did not pay enough attention to this side of Taiwan."
Tsai received a warm welcome throughout the two-day trip, further boosting her campaign team's belief that Tsai's policies would be well received and garner a positive response.
When it comes down to -business, the DPP could make better use of the traditional tactics to spread their campaign messages.
However, the party no longer ignores the east coast, having established more than 100 "contact points" in Aboriginal communities in eastern Taiwan since Tsai assumed the chair of the party in 2008, despite knowing the "returns" might be limited.
The DPP's goal for the January presidential election is modest. "We want to make sure every DPP supporter goes to the poll on Jan. 14, 2011. It's that simple," said one party official, who wished to remain anonymous because he was not authorized to speak on the matter.
Comments will be moderated. Keep comments relevant to the article. Remarks containing abusive and obscene language, personal attacks of any kind or promotion will be removed and the user banned. Final decision will be at the discretion of the Taipei Times.