PEACE PACT POLEMIC: AIT warned Ma on peace pact: cable
'UNACCEPTABLE': AIT Chairman Raymond Burghardt predicted that Beijing would demand Taipei suspend arms purchases from the US as a condition of dialogue
A leaked US cable shows that American Institute in Taiwan (AIT) Chairman Raymond Burghardt warned President Ma Ying-jeou (馬英九) in 2007 that cross-strait dialogue on various issues, including a peace agreement, could be at the expense of US arms sales to Taiwan.
Following heated debate on whether to start political talks with China that could potentially lead to unification if Ma is re-elected in January after he proposed the idea on Monday, Ma said on Thursday that a pact would not be signed unless strict prerequisites were met.
However, a cable dated June 18, 2007, and released by WikiLeaks on Aug. 30 details a meeting between Ma, then the Chinese Nationalist Party's (KMT) presidential candidate, and Burghardt, which appears to suggest otherwise.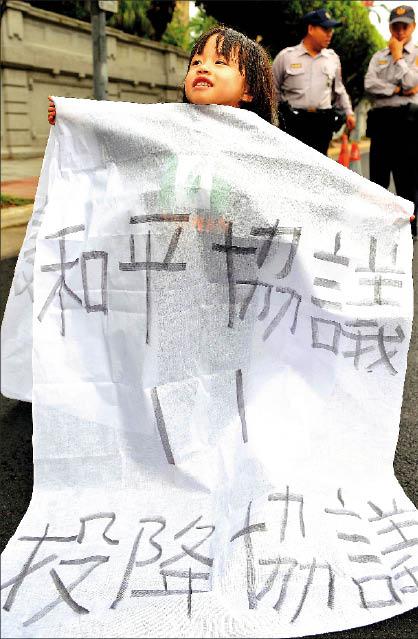 A child holds up a banner that reads "Peace Agreement = Surrender Agreement" near the Presidential Office in Taipei yesterday as part of a protest staged by pro-localization groups in response to President Ma Ying-jeou's recent comments about signing a peace -agreement with China.
Photo: Chu Pei-hsiung, Taipei Times
The cable quoted Ma as telling Burghardt that he "would accept a peace agreement of either limited or unlimited duration" if elected president on March 20, 2008.
Burghardt, in the company of then-AIT director Stephen Young, visited Ma, who was accompanied by his top national security aide, Su Chi (蘇起), on June 16.
During their talks, Ma told the US officials that he would implement "five do's" and honor then-president Chen Shui-bian's (陳水扁) "four noes" pledge if he were elected president.
The "five do's" included resuming dialogue with Beijing, establishing military confidence-building measures, creating a China--Taiwan common market, reaching a modus vivendi on international organizations and expanding cross-strait cultural and educational exchanges, the cable says.
The cable says Ma told Burghardt that he "would condition any negotiation of a peace agreement on the PRC's [People's Republic of China] removal of missiles aimed at Taiwan, adding that he would accept a peace agreement of either limited or unlimited duration."
Burghardt predicted that China would attempt to condition any dialogue on Taiwan suspending arms purchases from the US, the cable says.
Both Ma and Su in response said that would be "unacceptable."
They said Beijing would tolerate continued US arms sales as long as Taiwan's leadership did not antagonize China by pushing an independence agenda, the cable says.
When they talked about the 2008 presidential election, Ma told Burghardt that then-Democratic Progressive Party (DPP) presidential candidate Frank Hsieh (謝長廷) had rehashed charges that Ma was "a Mainlander," that he "does not love Taiwan" and that he intended to counter such attacks by emphasizing the KMT would stabilize cross-strait relations, which he added would produce economic opportunities.
"Unlike the DPP, the KMT enjoys a strong intra-party consensus on cross-strait policy. Moreover, while the PRC does not trust President Chen or the DPP, the KMT already shares common ground with Beijing, both sides having accepted the 'one China, different interpretations' formulation of the '1992 consensus,'" Ma is quoted as saying in the cable.
With a KMT government, and under proper circumstances, negotiations for a peace agreement and for economic cooperation could begin immediately, the cable quotes Ma as saying.
Furthermore, Ma said that a KMT government would "remove the question of Taiwan independence from the table," stabilizing cross-strait relations and thereby enhancing Taiwan's attractiveness to foreign investors and its trading partners, the cable says.
Comments will be moderated. Keep comments relevant to the article. Remarks containing abusive and obscene language, personal attacks of any kind or promotion will be removed and the user banned. Final decision will be at the discretion of the Taipei Times.