Burkina Faso grants visa-waiver
Burkina Faso, Taiwan's West African diplomatic ally, agreed to grant visa-waiver privileges to Taiwanese, bringing the number of countries that have included Taiwan in their visa-waiver programs to 124, President Ma Ying-jeou (馬英九) said yesterday.
Burkina Faso was previously one of Taiwan's four diplomatic allies that did not grant visa-waiver privileges to Taiwanese. The other three allies are Paraguay, Belize and Sao Tome and Principe.
While announcing Burkina Faso's decision, Ma defended his administration's efforts to seek cooperation and strive for the rights of Taiwanese amid the government's goal to increase the number of countries granting Taiwanese visa-free privileges to 100.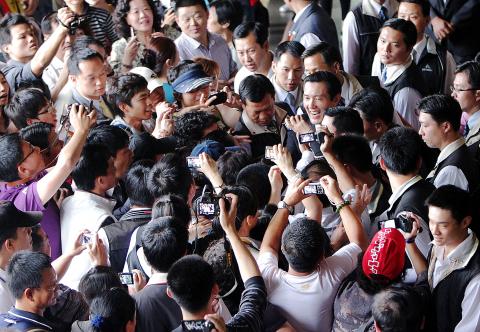 President Ma Ying-jeou is surrounded by visitors at the Sun Yat-sen Memorial Hall in Taipei as he leaves the area after an event yesterday.
Photo: CNA
Ma said the number of countries granting Taiwan visa-free or landing visa privileges was 54 when former president Lee Teng-hui (李登輝) was in power, with the number staying the same during the Democratic Progressive Party government under former president Chen Shui-bian (陳水扁).
"With an increasing number of countries granting visa-waiver programs to Taiwanese, the Republic of China [ROC] is not only a normal nation, but a nation where its people are given more privileges. This is an indication of the government's efforts to safeguard national dignity and as a result, our people are treated with respect internationally," Ma said at the launch ceremony of an exhibition on the Centennial of the ROC at the Sun Yat-sen Memorial Hall.
Ma made the announcement after he met with Burkina Faso President Blaise Compaore at the Presidential Office yesterday morning after he arrived in Taiwan to attend the ROC Centennial National Day celebrations.
Ma welcomed Compaore with a 21-gun salute in front of the Presidential Office and thanked the diplomatic ally for its long-term support to Taiwan's international participation, vowing to continue close cooperation with the nation.
Filling up his schedule this weekend with activities for the 100th anniversary of Double Ten National Day tomorrow, Ma -yesterday also met with Nauru President H.E. Marcus Stephen and Solomon Islands Prime Minister Danny Philip at the Presidential Office to consolidate diplomatic ties with the two nations.
Earlier yesterday when meeting with veterans from two air force special squads, Black Bat and Black Cat, Ma promised that his administration would continue to defend the sovereignty and dignity of the nation, while pushing for peace across the Taiwan Strait.
"We must ensure the sovereignty and dignity of the ROC and promoting peaceful cross-strait relations is a correct path that we must take. We will lead the country to a more splendid 100 years under the basis of cross-strait peace," he said.
Comments will be moderated. Keep comments relevant to the article. Remarks containing abusive and obscene language, personal attacks of any kind or promotion will be removed and the user banned. Final decision will be at the discretion of the Taipei Times.