KMT's Chiu accused of mud-throwing as Su Jia-chyuan property deemed legal
The Pingtung County Government yesterday reaffirmed the legality of Democratic Progressive Party (DPP) vice presidential candidate Su Jia-chyuan's (蘇嘉全) farmhouse in the county.
A joint press conference held by the county's Urban and Rural Development Department, Land Administration Department and Agricultural Department came amid a series of attacks against Su by Chinese Nationalist Party (KMT) Legislator Chiu Yi (邱毅).
Su said yesterday that he would file a defamation lawsuit against Chiu.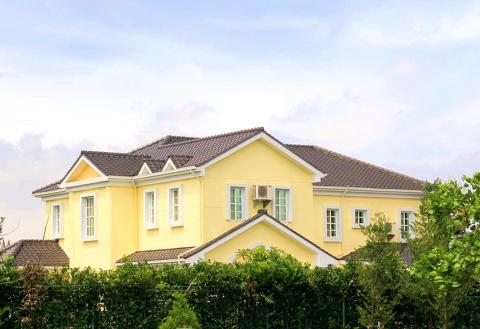 A house belonging to Democratic Progressive Party vice presidential candidate Su Jia-chyuan, built on agricultural land in Pingtung County, is shown in this undated photograph.
Photo: CNA
The qualification and the purchase by Su's wife, Hung Heng-chu (洪恆珠), of a 2,505m2 plot of agricultural land in Changchih Township (長治) and the construction of a farmhouse on the land are all legal, a county official told the press conference.
The 250.47m2 farmhouse does not violate rules governing the use of farmland, which stipulate that the percentage of a plot of agricultural land used for houses should not exceed 10 percent, Urban and Rural Development Department Director Huang Chao-chung (黃肇崇) said.
Hung was fined NT$60,000 for illegal additional constructions in 2007, but she has paid the fine and corrected all violations, Lin Chin-ho (林景和), head of the Agricultural Department, told the press conference.
Chiu has launched a series of attacks on Su's family in recent weeks. He accused Su Chia-fu (蘇嘉富), Su Jia-chyuan's older brother, of involvement in a business that illegally mined sand and gravel and said the grave of Su Jia-chyuan's father was built on public land.
He also accused another older brother, Su Chia-chuan (蘇嘉川), of illegally leasing agricultural land for commercial use in Pingtung.
"Chiu's credibility as a whistle- blower can easily be seen from his miserable record," DPP spokesperson Chuang Ruei--hsiung (莊瑞雄) told a separate press conference, adding that Chiu was resorting to mud-throwing tactics to try to damage the DPP's presidential campaign.
The Pingtung County Government has clarified the legality of the farmhouse, Chuang said.
As for questions about the location of the grave of Su Jia-chyuan's father, he said the dispute was caused by historical factors since cadastral information in Taiwan has often been inaccurate and a database has not been established.
Comments will be moderated. Keep comments relevant to the article. Remarks containing abusive and obscene language, personal attacks of any kind or promotion will be removed and the user banned. Final decision will be at the discretion of the Taipei Times.