Lottery fraud suspect surrenders
DAMAGE: The president of the lottery operator stepped down yesterday, while the Sports Affairs Council accused the firm of deceiving it about the scope of the scandal
The prime suspect in a sports lottery fraud scandal surrendered to the Criminal Investigation Bureau in the company of his lawyer yesterday, the same day his girlfriend and alleged accomplice turned herself in to police after being subpoenaed.
The suspect, Lin Hao-chin (林昊縉), a former assistant manager at Taiwan Sports Lottery Corp, called police earlier in the day to voice his intention to give himself up after the company revealed his name, accusing him of swindling lottery winnings by using his position to have accomplices bet on sports events after the results were known.
Police said Lin was responsible for opening and closing the betting system. He restarted a computer to accept bets on the "Da San Yuan" (大三元) and "Da Si Xi" (大四喜) after sports results had already come out.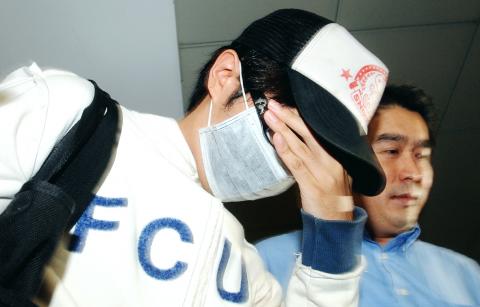 Lin Hao-chin, a suspect in the sports lottery scandal, yesterday covers his face as the police transfer him to the Taipei District Prosecutors' Office for interrogation.
Photo: Lin Cheng-kung, Taipei Times
His girlfriend, surnamed Wu (吳), was allegedly one of his accomplices in the scheme.
A third suspect, a man surnamed Chen (陳), was also questioned by investigators. At press time, all three were being questioned by the Criminal Investigation Bureau.
Police said Lin attempted to commit fraud seven times between June and last month and succeeded three times, allowing him to swindle more than NT$2 million (US$67,300) from the lottery system.
Because of the fraud scandal, shares of Fubon Financial Holding, Taiwan Sports Lottery Co's parent company, plummeted 5.49 percent to NT$35.25 yesterday.
Taiwan Sports Lottery president Paul Chai (翟小璧) stepped down yesterday to take responsibility for the scandal, Fubon Financial said in a statement.
Chai's position will be filled by Taipei Fubon Bank executive vice president Hong Chu-min (洪主民), the statement said.
The Sports Affairs Council said it had been deceived by Taiwan Sports Lottery about the scope of fraud, adding that it would consider whether the company still has the ability to continue operating the sport lotteries after the incident.
Ho Chin-liang (何金樑), director of the council's Department of Planning, said he had contacted Chai after he was informed on Sept. 6 by Lottery Union Association chairman Huang Chi-ren (黃繼任) that an employee at Taiwan Sports Lottery surnamed Wang (王) had been fired for alleged fraud.
Ho said that Chai had denied the allegation over the phone as well as in a meeting with him.
"I really think [Chai] deceived me," Ho said. "Because he [Chai] did not provide accurate information then, it resulted in more damage later. As an overseer of the sport lottery, we regret this situation, which should not have happened in the first place."
Ho said he and Huang talked for two hours about the suspected fraud, and Huang specifically said he did not want to go on record and required the council not to mention his name when investigating the incident.
Ho also said the fraud was indeed a major error by the company.
Prosecutors will investigate all evidence, and they will determine whether the fraud occurred because of the conduct of one person or if he had other accomplices, Ho said.
"We will adopt the strictest standard and most serious attitude to handle this incident, meaning we will definitely consider whether the company is still capable of operating the sport lottery," he said.
Sports Affairs Council Deputy Minister Steven Chen (陳士魁) said the council would examine the company's internal control procedures.
Chen said if the operator of the lottery failed to improve by a designated deadline, it could be fined between NT$30,000 and NT$150,000.
Comments will be moderated. Keep comments relevant to the article. Remarks containing abusive and obscene language, personal attacks of any kind or promotion will be removed and the user banned. Final decision will be at the discretion of the Taipei Times.