FEATURE: Banker succumbs to his love of legend
It may have been destiny — a fate that the victim himself foresaw on a number of occasions.
Prominent local banker Lin Keh-hsiao (林克孝), who had been an avid hiker and mountain climber since his teenage days, fell off a cliff to his death while hiking in Yilan County on Aug. 10, succumbing to a passion for Aboriginal legends that had gripped him for the past nine years.
The 51-year-old president of Taishin Financial Holding Co was climbing Shusuei Mountain (束穗山) with two Aboriginal guides near Nanao Township (南澳) when he tripped and fell while negotiating a narrow trail pass above a steep cliff.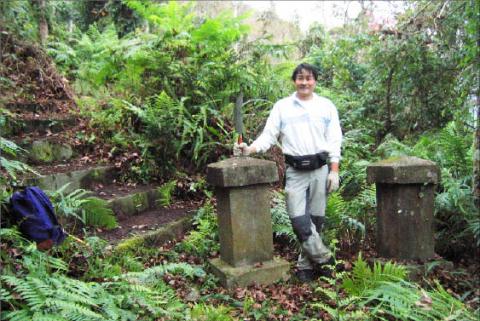 Taishin Financial Holding Co president Lin Keh-hsiao, who died in a hiking accident on Aug. 10, stands next to the overgrown stone steps of a mountain trail in an undated photo provided by his family.
Photo courtesy of Lin Keh-hsiao's family
The accident occurred in an area so remote that the guides needed 11 hours to reach civilization to call for help after seeing Lin's lifeless body and it took three days before his corpse was airlifted out of the mountains and sent home.
Lin had been drawn to the area for the first time nine years earlier, when he decided to pursue the legend of an Atayal girl who fell to her death in a turbulent stream at the end of World War II.
His curiosity about the story surrounding the 17-year-old Atayal girl named Sayion led him to spend six years retracing the long-abandoned tribal route she walked from deep in the mountains in southern Yilan County to the coastal town of Nanao.
According to the legend, Sayion was carrying the belongings of her Japanese mentor — a policeman stationed in the mountains — to the coast after he had been called back to Japan just before the end of World War II. She had almost reached her destination when she apparently slipped into the stream and was killed by the fall. The Atayal found her corpse and buried it, along with, they hoped, news of the accident.
Pulling Lin to the story was a song — one he had listened to since childhood and had become fond of — that became the theme song of a Japanese movie based on Sayion's story, known as Sayion's Bell.
However, the real lure for Lin was how a "minor accident turned into a great legend."
The Japanese colonialists used it for propaganda purposes to extol the virtues of following Japanese rule, while the then-Chinese Nationalist Party (KMT) government made a point of trying to erase it from memory.
At the time of Lin's death, he had embarked on a new mission that would form the basis of his second book — tracing how a group of Atayal people called the Klesan trekked across the mountains from what is now Nantou County to Yilan about 300 years ago. If anything, the new venture posed greater risks than his pursuit of Sayion's legend and he knew it.
In one TV interview, Lin joked that he might not find his way home one day in the future because his hobby was leading him to increasingly remote and dangerous destinations, but as he recounted in his book on the Sayion legend, Finding the Way — Moonlight, Sayion and the Klesan, the temptation of discovery was too much for him to resist.
To Lin, retracing Sayion's trail was a serendipitous pursuit.
"New findings, which bounced out one after another, made them endless new traps, magnetizing me to jump into a series of dreamlike, yet solidly true experiences," he wrote. "Once I started, I could not stop."
Though Lin had a doctorate in economics from the University of Washington and taught finance at National Taiwan University (NTU), where he earned his undergraduate degree, his passion for the Atayal legend was not a surprise. Those who knew him said he had a poetic and compassionate side.
He went with his NTU sweetheart for postgraduate studies to the US, where she fell ill with cancer and never recovered. He took care of her until her death and remained single until he was 46, many years after returning to Taiwan. He later fell in love with his secretary and they got married in the mountains near Nanao.
Lin was also a philanthropist, inviting Nanao elementary-school students and teachers to tour Taipei 101; sending LED lamps and translation machines to graduates in the village; sponsoring school choirs to perform in Taipei; and financing roots-seeking programs for Atayal children.
In his free time, Lin hit the hiking trails as often as possible, a hobby he developed during his childhood. He had tamed many mountains in Taiwan and abroad over the past three decades, including the 4,392m tall Mount Rainier in the northwest of the US.
However, he could not escape the thought that the mountain treks needed to pursue his passion for -Atayal culture might come to a sad end.
In his letter to a friend from the NTU Mountaineering Club in 2009 after an NTU alumnus, a medical doctor, fell to his death while scaling the 3,603m tall Siangyang, Lin wrote that he often thought during solo climbs that he might fall and end up stuck in a place where he would not be found.
"If that were to happen, I would miss my family very much and would yell out of my heart to them that I love them. I hope everybody would be strong enough to forgive my negligence," Lin wrote.
Comments will be moderated. Keep comments relevant to the article. Remarks containing abusive and obscene language, personal attacks of any kind or promotion will be removed and the user banned. Final decision will be at the discretion of the Taipei Times.