Red Cross delegation visits Sri Lankan communities
The head of the Red Cross Society of the Republic of China (ROC) was warmly greeted on Saturday when he visited two Colombo communities that were built with the charity's aid after Sri Lanka was hit by tsunamis in late 2004.
It marked the first time C.V. Chen (陳長文) had visited the two communities — Kadawalawatte and Lunawa — since they were completed in 2008. They accommodate 192 households with about 1,000 people in total.
Colombo residents beat drums and performed dances to welcome Chen and his delegation.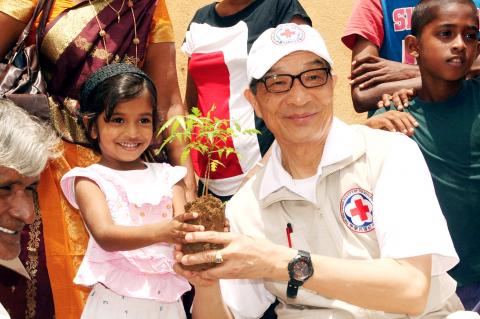 C.V. Chen, head of the Red Cross Society of the Republic of China, holds up a tree seedling together with a girl in Colombo's Lunawa community in Sri Lanka on Saturday.
Photo: CNA
A devastating tsunami hit several South and Southeast Asian nations in December 2004, leaving at least 40,000 people dead, 120,000 houses destroyed and more than 500,000 homeless in Sri Lanka alone.
The Red Cross raised more than NT$700 million (US$24.14 million) to help with post-disaster relief projects, about 47 percent of which was used in rehabilitation work in Sri Lanka.
Chen also presided over the opening of a children's playground in the Kadawalawatte community of 112 apartments, each of which has three bedrooms, a living room, a bathroom and a balcony.
Chen said the Red Cross Society joined post-disaster relief work in Sri Lanka and other tsunami-hit countries in January 2005.
In addition to search and rescue, the charity also assisted in housing construction, offering medical and education services as well as donating fishing boats.
"If necessary, we are willing to offer more humanitarian aid," Chen said.
According to Red Cross officials, the charity's "South Asia tsunami relief" project is nearing its conclusion.
After discussions with the South Asia division of the International Federation of Red Cross and Red Crescent Societies, the ROC group will continue a US$3.1 million project to help with healthcare and disaster risk reduction in five tsunami-hit countries.
Chen also met with Jagath Abeysinghe, president of the Red Cross Society of Sri Lanka and was scheduled to visit northern Sri Lanka today.
Northern Sri Lanka was also struck by the tsunami in 2004, but reconstruction work proceeded slowly because the area was plagued by civil war.
Comments will be moderated. Keep comments relevant to the article. Remarks containing abusive and obscene language, personal attacks of any kind or promotion will be removed and the user banned. Final decision will be at the discretion of the Taipei Times.