Gender, gay rights groups file slander suit in Taipei
FALSEHOODS: Activists detailed false information used by the Union for True Love as part of its efforts to stop the gender equality curriculum being effected
Gender and gay rights advocacy groups yesterday filed a slander lawsuit against the Taiwan Union for True Love, accusing the group of deliberately spreading falsehoods to undermine a new gender equality curriculum originally set to be introduced in schools in September.
"We are suing a Mr Chi [齊] from the so-called 'Union for True Love' because the group has repeatedly spread lies in an effort to undermine the gender equality curriculum," said Lo Hui-wen (羅惠文), a member of the Taiwan Gender Equality Education Association (TGEEA). "We do not know Mr Chi's real name, because he has never revealed it."
Several groups filed a lawsuit with the Taipei District Prosecutors' Office yesterday morning.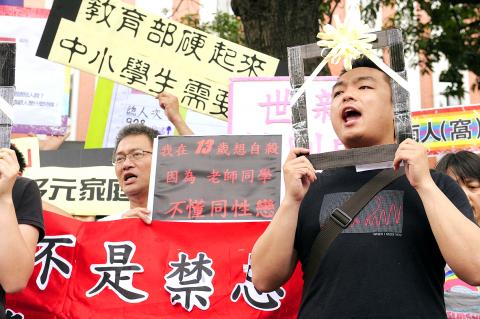 Members of various gender and gay rights advocacy groups protest outside the Ministry of Education in Taipei yesterday.
Photo: George Tsorng, Taipei Times
The TGEEA was joined by members from the Taiwan Tongzhi Hotline Association, the Taiwan Adolescent Association on Sexualities, the Gender/Sexuality Rights Association Taiwan and the Tong-Kwang Light House Presbyterian Church in a demonstration outside the Ministry of Education before heading to the prosecutors' office.
In a press release, the groups detailed the false information used by the Union for True Love as part of its efforts to label the proposed gender equality curriculum as promoting "sexual openness."
For example, the Union for True Love has claimed the curriculum was teaching children sexual positions and it has said it encourages children to try different types of relationships — even polygamy.
"The curriculum mentions none of those things," TGEEA secretary-general Lai Yu-mei (賴友梅) said.
The Union for True Love has also deliberately twisted some of actual content of the curriculum, Lai said.
For example, the union has said the curriculum promotes gay marriage, but in fact the part on gay marriage is introduced in a section on different types of families, including single-parent families, transnational families, gay families and adoptive families.
Taiwan Tongzhi Hotline Association board member Goffy said that, according to his investigative work, the Union for True Love actually consists of members of conservative Christian churches.
"They say they're opposed to ideas on sex that are 'too open.' In fact, they are just anti-gay," Goffy said. "They launched an online petition against the curriculum, but their demands have been revised several times and only the attacks on homosexuals remain."
Controversy over the curriculum emerged earlier this month, when members of the Union for True Love took what they claimed were excerpts from a textbook to lawmakers, who then called for the curriculum to be suspended until the controversy had been cleared up.
Comments will be moderated. Keep comments relevant to the article. Remarks containing abusive and obscene language, personal attacks of any kind or promotion will be removed and the user banned. Final decision will be at the discretion of the Taipei Times.