KMT, DPP turn to first-time voters
AGE GAP: A recent TVBS poll showed DPP candidate Tsai Ing-wen trailed the president by 1 percent overall, but held a 9 percent edge in the age 20 to 29 category
The two candidates in next year's presidential elections are making university lecture halls and student clubs a major component of their campaigning, reflecting what will likely be a key demographic in the race for high office.
With President Ma Ying-jeou (馬英九) and Democratic Progressive Party (DPP) Chairperson Tsai Ing-wen (蔡英文) closely matched in popular support, attention has turned to cadres of first-time voters who, studies show, are still mostly undecided.
Ma has taken the initiative, meeting university students in conferences and media appearances about once every week for the past few months. Tsai, who became the official DPP candidate last week, says she plans to catch up.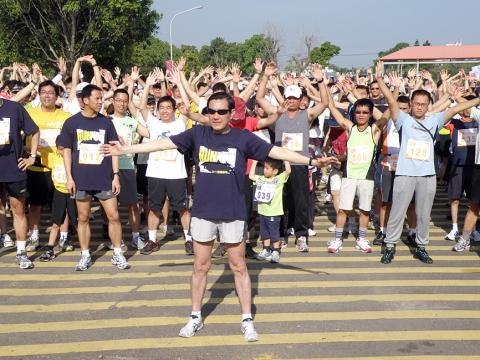 President Ma Ying-jeou stretches before participating in a run in Greater Tainan yesterday.
Photo: Liu Wan-chun, Taipei Times
"We have probably at least 17, 18 invitations lined up for school appearances that we plan to fulfill," said Hsu Chia-ching (徐佳青), Tsai's campaign spokesperson. "It continues Tsai's longstanding dialogue with university students."
Sources at Tsai's campaign said her university appearances would likely differ from Ma's, who used sessions with students to play simple games and answer trivia questions.
Topics Tsai is expected to cover include more youth-oriented issues such as student competition, the changing global landscape and the experience of growing up — including her own experience as a student in the US and the UK, sources said.
The sessions will be scheduled this month and the next, before the semester ends next month.
Since the DPP primaries began in earnest in March, Tsai's campaign has relied on numbers of university students to boost her presence in online blogs, discussions and media appearances.
Before and after the four primary debates held last month, Tsai was ringed by a dozen or more university students holding banners saying that she had the support of first-time voters — a presence that campaign officials said played a role in her narrow win.
A poll by cable news channel TVBS and released after Tsai was confirmed as the DPP candidate on April 27 showed Tsai had a 9 percent lead over Ma in the age 20 to 29 category, despite trailing by 1 percent overall.
The gap, Tsai campaign officials said, reflects public knowledge of the importance that Tsai has attached to key issues impacting students, such as skyrocketing housing prices, a lagging job market and stagnating wages.
There is also a disconnect between Ma's party and university students, Tsai's campaign said.
A Chinese Nationalist Party (KMT) lawmaker was forced to recant her remarks suggesting a "slap in the face" for St John University students who did not stand up when speaking to Ma at a question-and-answer session.
Caucus leaders later attempted to quell the uproar on campus by saying KMT Legislator Kuo Su-chun (郭素春) was not encouraging physical punishment, but aimed to encourage good manners.
"I think that the president and his campaign are just recognizing now how important first-time voters and especially university students are. Their ideas and ideals for the future are what drive this country," Hsu said.
Comments will be moderated. Keep comments relevant to the article. Remarks containing abusive and obscene language, personal attacks of any kind or promotion will be removed and the user banned. Final decision will be at the discretion of the Taipei Times.