Missiles could counter carrier threat: report
The navy's deployment of more Hsiung Feng III (HF-3) surface-to-surface missiles could provide the means to counter the potential threat posed by Chinese aircraft carriers, a news report says.
The Chinese-language Liberty Times (the sister newspaper of the Taipei Times) yesterday quoted navy officials as saying that the deployment of Hsiung Feng III supersonic anti-ship missiles on warships could effectively deter China's warship groups and aircraft carriers currently under development.
Reports said last month that the Varyag, a refitted Ukrainian aircraft carrier, was nearing completion and could embark on its maiden voyage later this year.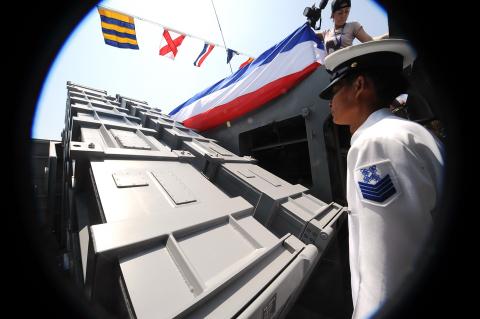 A naval officer stands at attention behind a Hsiung Feng II missile aboard a domestically developed missile corvette during a ceremony in Zuoying, Greater Kaohsiung, on May 18 last year.
Photo: Chang Chung-yi, Taipei Times
Officially intended for training, the Varyag could play a combat role in a Taiwan contingency and is equipped with a number of radar systems.
However, experts say it will be a few years before Chinese naval pilots develop the skills necessary to take off and land aircraft — acquired from Russia or China-made — on carriers.
China is also reportedly developing its own nuclear-powered aircraft carriers, which could be deployed around 2020.
Chinese Nationalist Party (KMT) Legislator Lin Yu-fang (林郁方) told the newspaper the navy had earmarked NT$1.89 billion (US$66 million) to carry out the deployment of Hsiung Feng III missiles on Taiwan's eight Cheng Kung-class frigates and seven Ching Chiang-class patrol ships -between 2007 and 2013.
The report said the navy last month unveiled the image of a high-tech missile corvette specifically designed to counter Chinese aircraft carriers. It also plans to deploy Hsiung Feng II (HF-2) and HF-3 missiles on the corvette, it said.
Lin said ship and land-based HF-3 missiles would pose a strong threat to Chinese warships and aircraft carriers approaching Taiwan.
However, while the navy has fielded land-based HF-2 missiles, it has yet to develop shore-based and land-based HF-3s, the report said.
Navy Chief of General Staff Vice Admiral Lee Hao (李皓) said that while the navy was developing land-based and mobile HF-3 missiles, their size and weight created difficulties in developing the vehicles capable of carrying the launchers.
Lee said that once the navy resolved that technical challenge, land-based HF-3s would be deployed.
Additional reporting by Staff Writer
Comments will be moderated. Keep comments relevant to the article. Remarks containing abusive and obscene language, personal attacks of any kind or promotion will be removed and the user banned. Final decision will be at the discretion of the Taipei Times.