Taipei EasyCard Corporation to expand use of cards
Taipei EasyCard Corp said yesterday it would expand the use of EasyCards to fast food chains and gas stations this year as part of efforts to promote use of the cards as electronic wallets.
The company launched EasyCard as an electronic wallet that can store up to NT$10,000 in value last April.
Cards can be used at more than 12,000 outlets, from convenience stores and restaurants to supermarkets.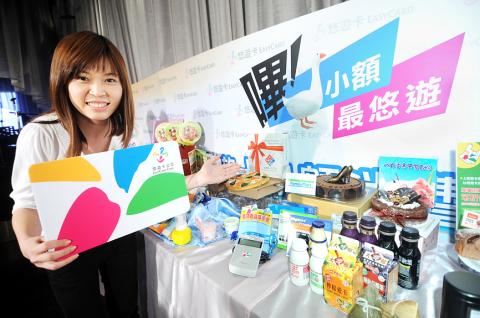 A woman gestures to a display of the kind of products EasyCard holders can purchase with the card at a promotion in Taipei yesterday, to mark the anniversary of the launch of the "e-wallet" service by the Taipei EasyCard Corporation.
Photo: Fang Pin-chao, Taipei Times
Before last year, use of the card was restricted to paying for public transportation.
Celebrating the first anniversary of the EasyCard as an e-wallet yesterday, company chairman Liu I-cheng (劉奕成) said the firm is working to have the card accepted at major fast food chains including McDonalds, and gas stations this year, as well as launching a reward program for e-wallet users to enable them to gain bonus points with each transaction.
The company is also looking into the possibility of integrating the cards with ATM cards, allowing cardholders to withdraw money from bank accounts and shop using the card, he said yesterday at a celebration ceremony.
The company has issued 24 million EasyCards, and 4.5 million users have used the cards as e-wallets, with more than 80 percent of the daily 280,000 transactions taking place at convenience stores, the company said.
Former company chairman Sean Lien (連勝文), son of former Chinese Nationalist Party (KMT) chairman Lien Chan (連戰), also attended the ceremony yesterday, attracting media attention as he has rarely been seen in public snce being shot in the face at a campaign rally for a local politician in what was then Taipei County in November.
As the key figure who pushed for the e-wallet program during his time as company president, Sean Lien expressed his pride in the program.
He declined to comment rumors linking him to the post of deputy mayor in Taipei City.
"Taipei Mayor Hau Lung-bin (郝龍斌) is not here today, and I'm not in a position to discuss the issue," he said.
There are two deputy mayors in the Taipei City Government. The Hau administration plans to add one more deputy mayor to the team, and Sean Lien has been spoken about as a likely candidate for the position.
Comments will be moderated. Keep comments relevant to the article. Remarks containing abusive and obscene language, personal attacks of any kind or promotion will be removed and the user banned. Final decision will be at the discretion of the Taipei Times.