TRA introduces three new lunch box choices
The Taiwan Railway Administration (TRA) yesterday introduced three new lunch boxes designed by nutritionists.
The nation's largest railway system has long been known for its deep fried pork rib lunch box, the popularity of which generates millions of NT dollars in revenue annually. Prior to his inauguration in March 2008, President Ma Ying-jeou (馬英九) even treated Japanese delegates to a pork rib lunch box upon their arrival in Taiwan.
General manager of catering services for the TRA, Ju Lai-shun (朱來順), said the three new lunch boxes have been made according to recipes designed by nutritionists at Mackay Memorial Hospital in Danshui, New Taipei City (新北市).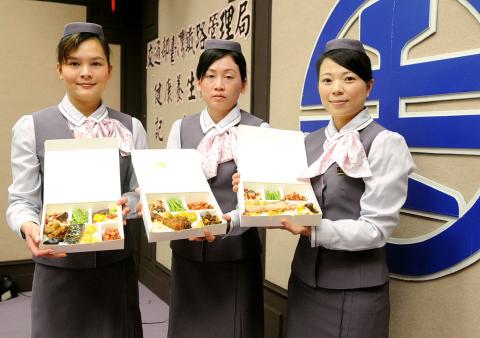 Three Taiwan Railway Administration attendants in their new uniforms introduce healthy lunch boxes designed in collaboration with the Mackay Memorial Hospital at a press -conference in Taipei yesterday.
Photo: Wang Yi-sung, Taipei Times
Aside from a vegetarian lunch box, new offerings also include baked chicken drumstick and baked salmon meals.
"As we designed the lunch boxes, we tried to follow the calorie-intake standards set by the Department of Health," Ju said. "We hope our customers will enjoy this delicious food and stay healthy at the same time."
The new lunch boxes, which cost NT$100, went on sale yesterday morning at train stations in Songshan, Taipei, Greater Kaohsiung, New Tsoying -Station, as well as the high-speed rail station in Tsoying.
All 150 lunch boxes on sale at Taipei Main Station were sold by noon.
Ju said the TRA had evaluated the market for healthy lunch boxes and believed it could sell between 2,000 and 3,000 per day.
Tsai I-hsien (蔡一賢), director of the nutrition department at Mackay Memorial Hospital, said most lunch boxes on the market contain excessive calories.
"As we attempted to limit oil in our new lunch boxes, we chose to bake the salmon, chicken drum sticks and the soy bean products," he said. "The vegetables are cooked with canola oil."
According to health department recommendations, women should consume between 600 kilocalories (kcal) and 700kcal for lunch and dinner, and men between 800kcal and 900kcal.
The TRA said the baked chicken drumstick lunch box contained 705kcal, while the baked salmon and vegetarian boxes contained 712kcal and 702kcal respectively.
In addition to the lunch boxes, the TRA also unveiled new uniforms for female service attendants.
Ju said the new uniform features a two-piece purple dress and a scarf, making its female employees look like flight attendants.
Comments will be moderated. Keep comments relevant to the article. Remarks containing abusive and obscene language, personal attacks of any kind or promotion will be removed and the user banned. Final decision will be at the discretion of the Taipei Times.