Philanthropist vows to return
'NEW APPROACH': Chen Guangbiao said he would return for a secret project, but promised to maintain a low profile and not risk stirring controversy again
China's best-known philanthropist left Taiwan yesterday after a controversial seven-day trip during which he exhibited a flamboyant approach to charity that some thought was commendable and others called crass.
Chen Guangbiao (陳光標), who handed out cash on the nation's streets soon after arriving last Wednesday, promised before he boarded his plane in the afternoon to return to Taiwan in May in a more "low-key" manner.
Despite the criticism and skepticism he faced, Chen was clearly pleased with his visit.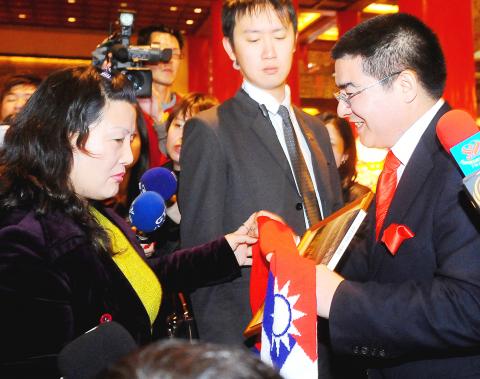 Chinese philanthropist Chen Guangbiao, right, smiles as he accepts a Republic of China 100th anniversary souvenir scarf from a woman in Taipei yesterday as he prepares to leave Taiwan.
Photo: Wang Min-wei, Taipei Times
"I have achieved what I promised," Chen said, referring to his donations of more than NT$510 million (US$17.5 million), NT$10 million more than his target.
The total included public donations of NT$83 million and private contributions to local foundations.
Chen and his family also visited six counties and cities.
"Taiwan has beautiful mountains, beautiful people and a beautiful heart," he said.
Chen sparked controversy over his methods and goals when he made his first public donation on Thursday — handing out NT$70,000 to a 67-year-old woman.
From that point on, Chen was constantly accompanied by reporters to see how his flamboyant style would be received. Despite the negative attention he attracted from some quarters, he thanked those who supported his mission.
"Many people applauded me by giving me the thumbs-up," he said. "I will convert their encouragement into motivation to do more things for Taiwan."
Chen said he would take good memories back to China and that he would return to Taiwan for a groundbreaking ceremony for a secret project in Hualien County in May after raising more funds.
Chen added that he would keep a lower profile when he visits next time.
Comments will be moderated. Keep comments relevant to the article. Remarks containing abusive and obscene language, personal attacks of any kind or promotion will be removed and the user banned. Final decision will be at the discretion of the Taipei Times.