Ma and mom shop for New Year groceries
President Ma Ying-jeou (馬英九) yesterday took his 91-year-old mother shopping for Lunar New Year treats.
Chaperoning his mother on a shopping spree at Xinglong Market in Taipei City's Wenshan District (文山) one day before Lunar New Year's Eve is an annual ritual for Ma. In all, Ma and his mother, Chin Hou-hsiu (秦厚修), spent NT$3,190 on pork, chicken, fruit, vegetables, dumplings, cooked food and flowers yesterday.
Holding his mother's hand, Ma offered New Year greetings and handed out red envelopes to vendors and shoppers at the market.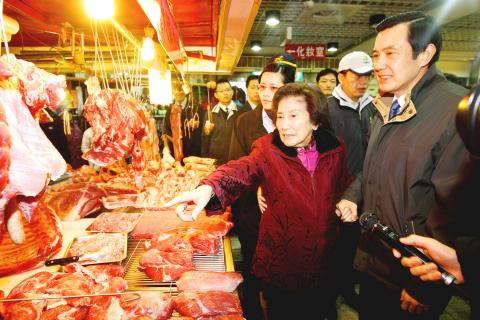 President Ma Ying-jeou looks on as his mother, Chin Hou-hsiu, points at items on a butcher's counter, while shopping for food for Lunar New Year at the Xinglong Market in Taipei yesterday.
Photo: CNA
He told reporters that when he was little, his grandmother would take him grocery shopping in the run-up to the Lunar New Year, but that that was 50 or 60 years ago.
In recent years, he has accompanied his mother to do the New Year grocery shopping and he felt happy that a "60-year-old son can help his 91-year-old mother do her grocery shopping."
However, Ma's mother complained, saying she is not 91.
"She insists that she is only 89," Ma said.
After grocery shopping, Ma said he would have dinner with his family on Lunar New Year's Eve.
Meanwhile, former president Lee Teng-hui (李登輝) had a more political day, during which he called on Taiwanese to rid themselves of the current government, which he described as one "running counter to the public will."
"Our government gauges China's mood when it comes to the economy, foreign affairs and human rights," he said in his Lunar New Year greeting on his Facebook page. "It really worries us."
Taiwanese must realize that the true meaning of democracy is the people are the real masters of their country. Although the public has different opinions on government policies, they cannot express their opinions through referendums, he said, seriously undermining Taiwan's democratic system.
"A government running counter to the people's will should be replaced, just like the house-cleaning we do before the Lunar New Year," he said. "This year is critical for Taiwan. It is an opportunity for change and that includes the legislative and the presidential polls."
Taiwanese must realize that their ballots decide the future of Taiwan, he said, and only a government that will give them happiness will create a bright future. Lee said he would work together with the public to achieve that goal.
Lee also distributed red envelopes to close friends and relatives.
The design on the 2,000 red envelopes had a rabbit printed in gold and the words sin-ni kiong-hi (新年恭禧), happy new year in Hoklo (also known as Taiwanese).
The card is shaped like a double door. Inside is a NT$5 coin at the top followed by five Chinese characters from top to bottom. The coin and characters form the phrase "we are destined to be friends (五圓/有緣大家來作伙)."
A couplet on both sides of the card encourages recipients to work together for Taiwan's democracy.
Comments will be moderated. Keep comments relevant to the article. Remarks containing abusive and obscene language, personal attacks of any kind or promotion will be removed and the user banned. Final decision will be at the discretion of the Taipei Times.