Woman told to pay dead son's NT$9.74m tax bill
Chang Chong-hui (張寵慧) last saw her son three decades ago. However, this hasn't stopped the 58 year-old single mother, who works as a cleaner and can barely read, from being saddled with a bill for his unpaid taxes totaling NT$9.74 million (US$327,000).
Then there is an additional NT$2.5 million fine imposed by the Keelung police for the overdue payment of the balance.
It is unlikely that Chang, who has enlisted the help of borough leaders and a legislator to help fight her cause, could pay the money off even if she wanted to.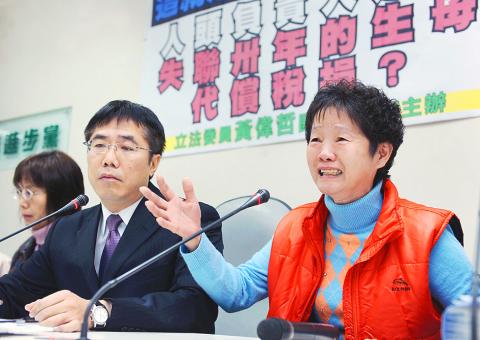 Chang Chong-hui, right, and Democratic Progressive Party Legislator Huang Wei-cher, say yesterday that the National Tax Administration was unjustly holding her liable for money owed by her deceased son's company.
Photo: Liao Chen-huei, Taipei Times
"The only reason that I have three meals today is from working hard," she said. "I can't read, I can't even write my own name. What do they want me to do?"
The National Tax Administration wants her to repay the back taxes owed by her son, who was responsible for a trading company before his death in April 2008.
Divorced from her late husband, the courts appointed Chang the liquidator of her son's remaining debts, despite having officially renounced her claim to any -remaining assets earlier.
National Tax Administration documents show that the agency asked a local court to appoint Chang as liquidator, as allowed under law.
When she later protested after being served the papers, she was told that she would have to appeal the appointment in court.
Government officials contend that the entire process was followed to the letter of the law. As the taxes were owed by a company, Chang's assets cannot be touched, tax administration official Huang Hui-ying (黃慧英) said.
Huang added that as long as the appeal process was completed and no remaining company assets have been found, Chang's notification would be canceled.
In the meantime, this single mother is under the continual stress of having to shuttle back and forth between government agencies and the courts, all in attempt to clear her name.
Under current regulations, government agencies also have the authority to prevent Chang from going abroad for up to five years — although a Ministry of Justice official said that they would not resort to such a measure.
Adding insult to injury, a finding last year confirmed that Chang's son was only a "figurehead" for the company and did not reap any of its benefits, the Democratic Progressive Party (DPP) Legislator Huang Wei-cher (黃偉哲) said speaking in support of the mother.
The "real operators" of the company have already been found, but didn't even receive a slap on the wrist, Huang said.
"They were only given a suspended sentence and were not even asked to pay back the owed taxes," the DPP lawmaker said in an account that has been confirmed by tax officials.
Chang's daughter, who did not wish to be named, added that it was "completely unfair."
Comments will be moderated. Keep comments relevant to the article. Remarks containing abusive and obscene language, personal attacks of any kind or promotion will be removed and the user banned. Final decision will be at the discretion of the Taipei Times.