Activists expose dog meat trade
NO PROSECUTION: Activists shot video clips with hidden cameras, purchased dog meat and turned the evidence over to Pingtung County's Department of Agriculture
Animal protection activists yesterday accused government agencies of not being active enough in prosecuting dog slaughterhouses and dog meat restaurants.
Watching a video clip shot with a hidden camera in a dog slaughterhouse that has a restaurant attached to it selling dog meat dishes, Kaohsiung Concern for Stray Animal Association (KCSAA) chairwoman Wang Hsiao-hua (王小華) burst into tears during a press conference hosted by Democratic Progressive Party Legislator Tien Chiu-chin (田秋堇).
The video showed equipment used for slaughtering dogs and processing dog meat, as well as customers enjoying various dog meat dishes in the restaurant.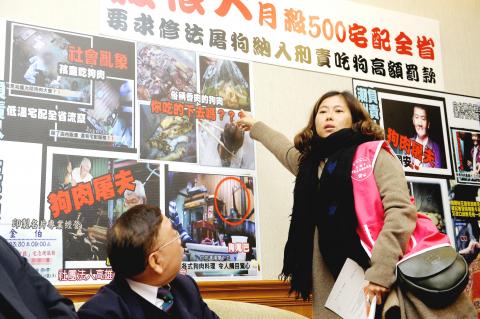 Kaohsiung Concern for Stray Animal Association chairwoman Wang Hsiao-hua, right, points at photos taken at a dog slaughterhouse and a dog-meat restaurant in Pingtung County at a press conference in Taipei yesterday.
Photo: George Tsorng, Taipei Times
"You can always trust the food in this restaurant, it's been around for more than 50 years," an elderly customer having a dog meat meal with his two grandchildren was filmed as saying.
The dog slaughterhouse, run by Wang Tien-chih (王天枝), not only serves dog meat in the restaurant, but according to his business card, Wang also provides a home delivery service for frozen dog meat.
"This is a well-known dog slaughterhouse and a large dog meat supplier in Chaojhou Township [潮州], Pingtung County. If you ask anyone in Chaojhou who slaughters dogs, they would tell you it's Wang Tien-chih," Wang Hsiao-hua said. "How come government agencies are so reluctant to prosecute?"
According to the Animal Protection Act (動物保護法), the slaughter of pet animals — mainly dogs and cats — and the sale of the meat is prohibited.
Slaughter of dogs and cats can be punished by a fine of between NT$200,000 and NT$1 million, while those selling dog or cat meat are subject to a fine of between NT$50,000 and NT$250,000, the law stipulates.
Repeat offenders can be jailed for up to a year, according to the law.
Wang Hsiao-hua said her organization had reported the case to the Pingtung County Department of Agriculture, which is in charge of animal protection, three years ago.
"However, when agents from the department went to Wang Tien-chih's shop, he insisted that he sold only goat meat and he refused to allow agents into his slaughterhouse or to take samples of the meat," Wang Hsiao-hua said. "The agents could do nothing about it because they did not have a search warrant."
KCSAA workers then pretended to be customers, shot video clips with hidden cameras, bought dog meat and turned the evidence over to the county's Department of Agriculture.
"Officials then told us that it would be difficult to use what we had as evidence in the court, since the samples were not collected legally," Wang Hsiao-hua said. "The government is so reluctant to act, yet when we acted, they say our evidence may be problematic. What should we do?"
Responding to the KCASS, the Council of Agriculture's animal protection officer, Lin Tsung-yi (林宗毅), said he would check to see if the county's Department of Agriculture was having any difficulty with the case and provide it with any assistance it needed.
In addition, a representative from Taiwan Sugar Co's assets management office, Huang Chin-tsung (黃錦宗), said that the company would immediately terminate its rental contract with Wang Tien-chih. The slaughterhouse and restaurant are on a piece of property rented from the company.
Comments will be moderated. Keep comments relevant to the article. Remarks containing abusive and obscene language, personal attacks of any kind or promotion will be removed and the user banned. Final decision will be at the discretion of the Taipei Times.