KMT official skips court appearance in talk show lawsuit
Talk show hosts and their lawyers yesterday crowded a Taipei courtroom, where they denied breaking any laws when they accused a senior Chinese Nationalist Party (KMT) politician of releasing fake polls.
However, the man who had levied the allegations was strangely absent. KMT Secretary-General King Pu-tsung (金溥聰) failed to show up at the initial hearing, despite being expected. Instead, he dispatched his lawyer.
Lawyer Lai Su-ju (賴素如), who is also a KMT Taipei City councilor, is handling King's case. She said King respected freedom of speech laws, but contended that the four accused talk show commentators failed to back up their claims with any evidence.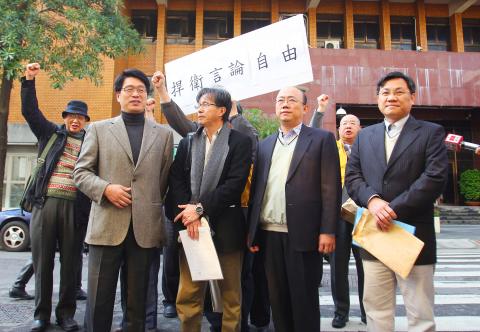 Supporters shout slogans in support of TV pundits Michael You, Shieh Jhy-wey, Julian Kuo and Chen Li-hung, front row left to right, yesterday outside the Taipei District Court, where they faced a defamation suit brought by Chinese Nationalist Party (KMT) Secretary-General King Pu-tsung.
Photo: CNA
"King doesn't want to see talk show hosts [ruin] the reputation of others under the guise of freedom of speech laws," Lai said. "[King] just wants to protect his name."
The issue arose in October when political talk show host Shieh Jhy-wey (謝志偉) and three guests on the show Boss Talk (頭家來開講) accused King of falsifying two polls in Taipei and Taipei County as part of November's special municipality elections.
The week prior to the show, King had, without releasing any further details on the polls, said that the ruling party was leading both races by more than 6 percent, bucking a trend shown by other surveys at the time.
During the Formosa TV show, commentators cited comments by People First Party (PFP) Chairman James Soong (宋楚瑜) in suggesting that those numbers were likely falsified to give the two candidates an advantage.
"The KMT is extremely proficient at making these 'purpose-driven,' polls, which are not really polls," said Michael You (游盈隆), a professor at Soochow University.
Yesterday, Shieh, You and their lawyers said that those comments fell in the bounds of speech, which is protected under law.
A small group of supporters, including a Democratic Progressive Party (DPP) Taipei City councilor, held up placards saying that the case underscored growing political oppression in the media. Media freedoms need to be protected, they said.
"King launched this lawsuit against us when all we were doing was acting as a voice for the people," Shieh said. "A politician of King's stature ... should not be trying to stifle the voices of commentators and academics."
Yesterday was the first time the defamation case was heard by the Taipei District Court. King is looking for damages of NT$2 million (US$69,000) from the four commentators, his lawyer said.
Comments will be moderated. Keep comments relevant to the article. Remarks containing abusive and obscene language, personal attacks of any kind or promotion will be removed and the user banned. Final decision will be at the discretion of the Taipei Times.