Rare Japanese platform doll set on display in Taipei
A rare seven-layer platform doll set used to celebrate hinamatsuri, or Girls' Day, in Japan is now on display at the Puppetry Art Center of Taipei, offering visitors an opportunity to gain a deeper understanding of traditional Japanese culture.
Girls' Day falls on March 3 in Japan and as part of the tradition, families display a set of ornamental dolls on platforms covered with red cloth as a symbol of good fortune for their daughters and for a lifetime of happiness in their marriage.
The doll set on display at the center was donated by Shou Kaori, who lived in Taiwan for more than 20 years before moving to Canada two years ago. The seven-layer doll set, which was part of Kaori's family collection for more than 40 years, cost more than NT$350,000 and is considered rare even in Japan, as most families can only afford to display three to four layers of dolls.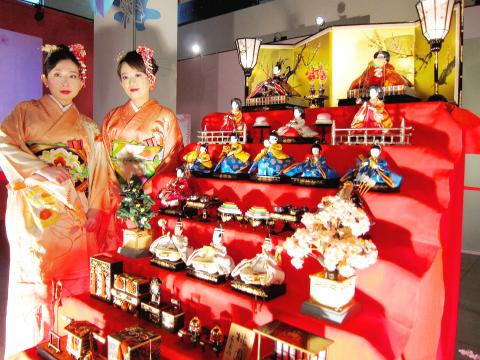 Staff members pose for a photo in front of puppets from Japan at the Puppetry Art Center of Taipei in Taipei City yesterday. The center is featuring a special display of Japanese dolls. It started on Jan. 1 and will run through Feb. 27.
PHOTO: LIN HSIANG-MEI, TAIPEI TIMES
"Ms Kaori donated the precious doll set to the center because she wanted to find the perfect place to display the collection and introduce traditional Japanese culture to more people," said Annick Tsai (蔡怡君), operating manager of the center.
Tsai said the seven-layer doll set was displayed according to the traditional arrangement, with the top tier containing two dolls known as imperial dolls. Attendants, servants and musicians in the traditional court dress of Japan's Heian period are displayed on the other layers.
According to the Japanese tradition, the dolls and other ornaments should be taken down from the platforms immediately after the festival, as Japanese believe that leaving the dolls out after March 4 will result in misfortune or late marriage for their daughters, she said.
The exhibition will run until Feb. 27. Visitors can also participate in a prize draw in which 10 visitors will be selected at the end of the exhibition and invited to make a Japanese-style lunchbox that will include foods traditionally eaten during the festival, such as sushi, clam soup and cakes made with cherry blossoms.
For more information, visit the center's Web site at www.pact.org.tw.
Comments will be moderated. Keep comments relevant to the article. Remarks containing abusive and obscene language, personal attacks of any kind or promotion will be removed and the user banned. Final decision will be at the discretion of the Taipei Times.