Lantern design for Year of the Rabbit unveiled
HOP ALONG: This year's official lantern festival will take place in Miaoli County and the Tourism Bureau estimates it is likely to attract about 6 million visitors
The design of the main lantern for the official Taiwan Lantern Festival, the traditional extravaganza that follows the Lunar New Year holiday, was unveiled yesterday, featuring a Formosan hare sitting on its hind legs holding a gold ingot.
The lantern, which is 20.5m tall and weighs 30 tonnes, is a symbol of the accumulation of fortune and prosperity for the country and its people, Tourism Bureau director-general Janice Lai (賴瑟珍) said during a ceremony in Taipei to unveil a scale model of the lantern.
The official Taiwan Lantern Festival of the Year of Rabbit — the fourth sign in the Chinese zodiac — will take place this year in Miaoli County.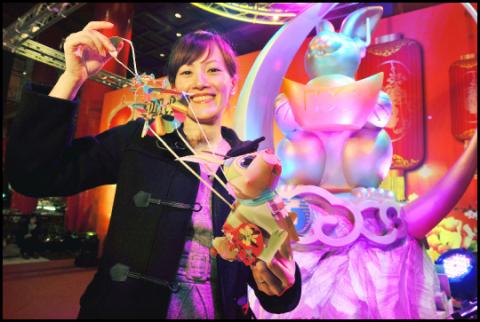 A woman holds up a special lantern after the Tourism Bureau yesterday unveiled the main lantern for the upcoming Taiwan Lantern -Festival, which will be held in Miaoli County's Jhunan and Toufen Sports Parks from Feb. 17 to Feb. 28.
PHOTO: CNA
Lai said that unlike the main lanterns showcased in the past, this year's lantern, called "Rabbit Presenting Luck," will be illuminated by 200,000 LEDs.
It features the concept of environmental protection, she said.
The bureau also introduced a much smaller paper lantern with a flying rabbit design, which will be presented as a gift to visitors to the Miaoli festival.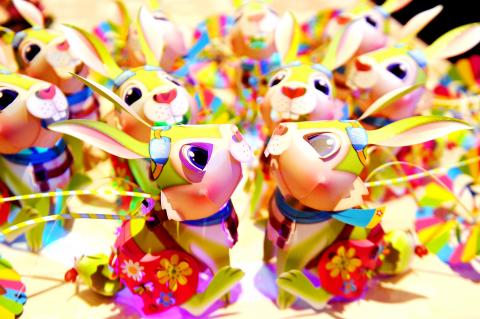 Portable lanterns modeled after rabbits are displayed after the Tourism Bureau yesterday showed the lanterns to the public for the first time ahead of the Taiwan Lantern Festival that will be held in Miaoli County's Jhunan Sports Park and Toufen Sports Park from Feb.17 to Feb. 28.
PHOTO: LU CHUN-WEI, TAIPEI TIMES
The Taiwan Lantern Festival will be held at the county's Jhunan and Toufen sports parks, which have a total of 25 hectares of open space. In addition to the lantern show, the festival will also include booths featuring local cuisine and agricultural products, Miaoli County Commissioner Liu Cheng-hung's (劉政鴻) said.
The festival will be opened on a trial basis for county residents from Feb. 10 to Feb. 13, followed by a trial opening for the general public from Feb. 14 to Feb. 16, before the official grand opening on Feb. l7. The festival will end on Feb. 28.
The Tourism Bureau has -estimated that the Miaoli festival, which is also part of the celebrations for the Republic of China's centennial this year, will attract about 6 million local and foreign visitors.
Comments will be moderated. Keep comments relevant to the article. Remarks containing abusive and obscene language, personal attacks of any kind or promotion will be removed and the user banned. Final decision will be at the discretion of the Taipei Times.