Historic site status sought for Kinmen military tunnel
An historical committee under the Kinmen County government determined on Sunday that it would list the 40-year-old Jincheng Civic Tunnel as an officially designated historic site entitled to special protection.
The Kinmen County Historic Structure Evaluation Committee, headed by Kinmen County Commissioner Li Wo-shi (李沃士), decided at a recent meeting to have the 2,559m tunnel, which was excavated in 1968, and -extensively rebuilt in 1978, -officially recognized as being of historic importance.
It is one of the most significant and longest of the 12 underground military base tunnels, built as defense installations on Kinmen since the late 1950s.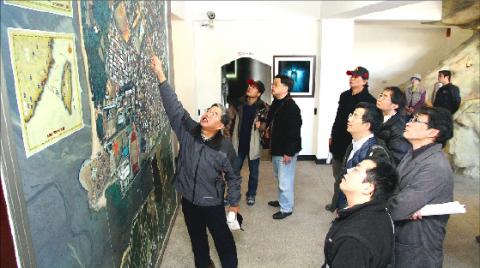 Members of a committee on historic buildings in Kinmen County inspect a civil air-raid tunnel on Sunday. They decided to officially list the old tunnel as a county-level historic site for preservation.
PHOTO: CNA
The tunnels bear witness to how Kinmen survived the many Chinese communist strikes against it, including extensive shelling in 1958, and how Kinmen has been transformed from a frontline anti-communist bastion into a tourist attraction in recent years.
The Jincheng Civic Tunnel was opened to the public two years ago after being refurbished.
Located in the center of downtown Jincheng, the tunnel connects Kinmen County Hall, Kinmen Bus Station, Kinmen Post Office, the Kinmen Branch of the Land Bank of Taiwan, the Chinese Nationalist Party's (KMT) Kinmen Chapter, an elementary school and Kinmen Senior High School.
The safety of the wartime tunnel, however, has been called into question in recent months after a property developer began building a 10-story building above the underground fortification.
"We will work out measures to ensure the landowners' rights, as well as protect the historic site," Li said.
If designated as an official historic site, the Jincheng Civic Tunnel will be the 45th protected historic site on the island and the first tunnel to be listed, the county government's Cultural Affairs Bureau said.
Comments will be moderated. Keep comments relevant to the article. Remarks containing abusive and obscene language, personal attacks of any kind or promotion will be removed and the user banned. Final decision will be at the discretion of the Taipei Times.